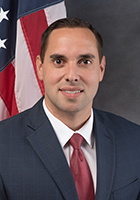 District 111:
Representative Bryan Avila
Data Sources: *2020 Impact reported by respondent clients | **2019 Economic Impact Analysis of the FSBDCN by FSU CEFA | District Profile: U.S. SBA Office of Advocacy (Congress only)
Business & Economic Outcomes
District

Statewide

**Sales Generated

$10.8M

$4.4B

*Gov't Contracts Acquired

$186.4K

$488.1M

*Capital Accessed

$1.3M

$553.5M

**Jobs Impacted: Direct, Indirect, Induced

92

37,966

*New Businesses Started

381

Service Snapshot

Existing & Aspiring Small Business Owners Consulted

64

24,191

Minorities

51 (80%)

8,988 (37%)

Veterans & Service Disabled Veterans

2 (3%)

2,316 (10%)

Women

26 (41%)

10,123 (42%)

Professional Consulting Hours Delivered

655

162,519
Client Testimonials
Avanza Advertising, Miami Springs
The expertise Adriana [Florida SBDC consultant] was able to provide us is invaluable. She was able to help us out throughout the entire year, especially during Covid. Besides being able to help us with our marketing, business strategy, finance, and advertising goals, it undoubtedly helped us structure our business for 2021. We are looking forward to [the Florida SBDC] being our valued partner in 2021 and beyond.
Alejandro Perez-Eguren
MSS Media, Inc., Miami
Mike Bell [Florida PTAC consultant] is beneficial; there is no doubt. We could not have entered the federal marketplace without his support and knowledge!
Barbara Gretsch
Expo Home Decor, Inc., Miami
She [my Florida SBDC consultant] was AMAZING. From creating an entire business model to finding my business weaknesses to establishing a massive partnership for our company and our future growth. Received much more than I expected from this program and Adriana.
Luis Toro