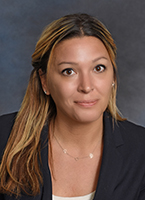 District 91:
Representative Emily Slosberg
Data Sources: *2020 Impact reported by respondent clients | **2019 Economic Impact Analysis of the FSBDCN by FSU CEFA | District Profile: U.S. SBA Office of Advocacy (Congress only)
Business & Economic Outcomes
District

Statewide

**Sales Generated

$13.1M

$4.4B

*Gov't Contracts Acquired

$32K

$488.1M

*Capital Accessed

$1.9M

$553.5M

**Jobs Impacted: Direct, Indirect, Induced

112

37,966

*New Businesses Started

2

381

Service Snapshot

Existing & Aspiring Small Business Owners Consulted

91

24,191

Minorities

32 (35%)

8,988 (37%)

Veterans & Service Disabled Veterans

8 (9%)

2,316 (10%)

Women

34 (37%)

10,123 (42%)

Professional Consulting Hours Delivered

996

162,519
Client Testimonials
Flo's Airport Shuttle Service, Delray Beach
Katherine Culhane [Florida SBDC consultant] understood my business. Her advice and help getting my [SBA] EIDL loan is why I'm still in business. 2020 really hit the tourist industry, my business. Katherine was there for my business helping me navigate through the obstacles caused by the pandemic. I'm looking forward to working with Katherine in 2021. I'm sure, with her knowledge, I'll build back my business.
Norma Mclean
A Little Piece of Paradise, LLC, Boynton Beach
Katherine [Florida SBDC consultant] was so helpful in my getting [SBA] PPP loan assistance. Her encouragement certainly was needed. It was tough navigating the application. Without her help, I would have given up. Many thanks.
Martie Wrock
Body Wellness Fitness & Management, Inc., Boca Raton
Mr. Cruz is a highly competent consultant that we always look forward to speaking with. It helps a great deal that he has been in our business and can give us good advice. The chart he made helped us understand what SBA was looking for to get additional funds. Although there were other factors involved, we felt that he was extremely helpful and that his suggestions played an important role in getting us additional [SBA] EIDL approval. Thank you from all of us.
Ernest Chu