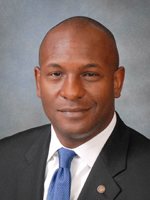 District 94:
Representative Bobby B. DuBose
Data Sources: *2020 Impact reported by respondent clients | **2019 Economic Impact Analysis of the FSBDCN by FSU CEFA | District Profile: U.S. SBA Office of Advocacy (Congress only)
Business & Economic Outcomes
District

Statewide

**Sales Generated

$28.5M

$4.4B

*Gov't Contracts Acquired

$83.6K

$488.1M

*Capital Accessed

$3.1M

$553.5M

**Jobs Impacted: Direct, Indirect, Induced

244

37,966

*New Businesses Started

1

381

Service Snapshot

Existing & Aspiring Small Business Owners Consulted

182

24,191

Minorities

102 (56%)

8,988 (37%)

Veterans & Service Disabled Veterans

19 (10%)

2,316 (10%)

Women

72 (40%)

10,123 (42%)

Professional Consulting Hours Delivered

1,481

162,519
Client Testimonials
US Bullnosing, Inc., Oakland Park
US Bullnosing received loans such as the [SBA] Paycheck Protection Program and the Economic Injury Disaster Loan, which allowed us to remain open, purchase more equipment, and maintain jobs for the people on our team. Without the Florida SBDC at FAU, it would not have been possible to obtain my dream of becoming a small business owner.
Ozgur Avsar
Fore Life, Inc., Lauderhill
The most helpful tool I learned from George [Florida SBDC consultant] was how to develop a strategic plan for the growth of my non-profit organization. As the Chief Everything Officer, he really helped me focus on things that would lead to sustainability.
Paula Pearson-Tucker