Ponte Vedra Manufacturing Company Springs International Sales with Guidance from Florida SBDC at UNF
When Optimum Spring was established in 2007, owners Andrea de Palma and Marco Fortini had years of experience in the business because of their involvement with de Palma's family who had been manufacturing springs in Argentina since 1970. Optimum Spring, located in Ponte Vedra, manufactures compression, extension, torsion springs, and spring conduits composed of specialty alloy wire suitable for operating under high temperatures and in corrosive environments. Additionally, Optimum Spring delivers design assistance, rapid prototyping, sampling, and delivery planning to offer the highest quality and a precise product.
In the early days of their business, de Palma and Fortini imported their goods from Argentina; however, shipping delays, rising costs of gas, and securing a large contract for the U.S. Navy prompted them to begin manufacturing for export in St. Johns County in 2009. The business has grown steadily since then, with about 20% annual sales growth over the past three years.
Upon experiencing a few years of success, de Palma and Fortini decided that exporting was the way to go. The company had been exporting throughout Asia, the Americas, South Africa, New Zealand, Germany, and Turkey; but it was more reactive in nature and resulted in unpredictable sales volume. They wanted to identify stronger foreign markets that would generate large recurring orders of specialty alloy springs. Additionally, they wanted to develop international expertise in order to ensure long-term success in international sales. They heard of the FSBDC at UNF and enrolled in the International Trade Certificate Program, a six-week series designed for SMEs interested in exporting. Attendees learn the steps to become competent in all trade aspects including marketing, documentation, payment and legal matters. Using the information they learned, Optimum Spring began to focus on exporting their product.
In early 2014, de Palma and Fortini returned to the FSBDC to meet with Katie Arroyo, International Trade Specialist. They were interested in an Export Marketing Plan (EMP), an in-depth business assessment provided by the FSBDC, in partnership with Enterprise Florida and the U.S. Commercial Service. The EMP uncovered a potential buyer in Finland, and the partnership with Enterprise Florida is helping connect Optimum Spring with them. In addition, the EMP revealed the need for a revamped website to cater to an international audience and to generate qualified leads. De Palma and Fortini met with FBSDC consultant Jared Bailey, who provided a personalized Search Engine Optimization Report to help them understand how to increase their company's online presence. De Palma and Fortini also attended several FSBDC workshops. Each workshop offered information and resources to help run their company more effectively.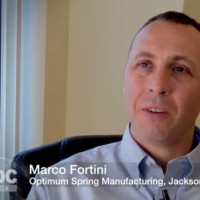 "What the SBDC did for us was [hold our hand] during the first steps. We developed our business plan back in 2007 and learned the right steps. Taking the right steps at the right time was critical for the success of our company."
- Marco Fortini, Vice President - Optimum Spring Manufacturing, Inc.