An American Dream, Mesic Law Firm
Attorney Kate Mesic's parents immigrated to the United States from Russia when she was just 15 years old so Kate and her sister could have the chance at a better life in America. Kate's first and most important goal when she came to the US was to master the English language for herself and her parents. During the day, she was an eager high school student. At night, she was helping manage the family finances, acting as interpreter and helping her parents fill out applications so they could get a job to support the family. Kate saw her parents struggle and sacrifice every day and so the only choice for her was to work as hard as she could for herself and for them. She learned quickly that in order to be successful in this country and in life, she had to become a leader, just like she was for her family. Kate's determination to achieve her earliest goal of learning the language resulted in receiving the highest GPA of her graduating class in the English Department of the University of North Florida.
A Leap of Faith
Right after law school, Kate served as an Assistant State Attorney in Marion County and then moved back to Jacksonville and worked for an established law firm. In 2010, Kate experienced some health problems that encouraged her to look for ways to find balance in her life. So, in February 2011, she took what she describes as a "leap of faith" and started her own practice. "Starting a business was not something I ever considered or planned for, but it was the right decision at the right time," said Kate. "The best part about being on my own is that it gives me the freedom to choose the clients, cases and causes that I can stand behind."
Kate started her business from her home office with a $2,000 tax refund. Six months later, she had the opportunity to share office space and an assistant with another attorney. This ended up being the catalyst that took Mesic Law to the next level. Recognizing that she had no experience starting and running a business, Kate immediately sought out mentors. She turned to established women attorneys in the Jacksonville Women Lawyers Association (JWLA), who graciously shared their experiences, their mistakes and their successes.
In April 2011, Kate had her first meeting with Cathy Hagan, a professionally certified business consultant at the Florida SBDC at UNF. Initially, they focused on developing financial projections for the business and diversifying revenue streams by expanding into additional areas of law. It soon became evident that this was not Kate's favorite subject. Meetings with Cathy turned to exploring marketing and networking. Kate identified some networking groups beyond her discipline where she has met referral sources, mentors, and friends. She also relies heavily on her online presence so the discussion often turns to her web site and search engine optimization. It is evident that while being a lawyer is Kate's profession, marketing is her passion. Kate continues to meet with Cathy on a regular basis to explore new ways to reach potential clients that need her help. Recognizing that as her business grows, understanding financial statements and managing cash flow is critical, Kate is currently participating in the Jacksonville Women's Business Center's "Financial Matters" mentor program – definitely stepping out of her comfort zone.
Connecting and Networking for the American Dream
The Small Business Resource Network (SBRN) has given her the opportunity to network with professionals who work with small business owners. At the other end of the spectrum, Kate's active involvement in Women Business Owners has resulted in deep friendships and support from women who experience similar opportunities and challenges of running a business. Kate is quick to return the favor, offering support to other WBO members. She was recently recognized as WBO's 2013 Up and Coming Entrepreneur of the Year. Kate continues her involvement with JWLA and was honored to be elected as President and is on a mission to strengthen the membership through new networking and educational programs. Additionally, Kate returns to UNF to speak to pre-law students about her experiences and has served for the last 10 years on the UNF Pre-Law Board of Advisors. She works with many foreign female students striving to become attorneys and guides them through this difficult process. Kate believes that by sharing her mistakes and successes, their path will be a little easier.
"I have made the American Dream come true not just for myself, or my family, but will continue to do so for anyone who needs guidance and support either through my legal services or my personal mentorship." And she will continue to turn to her own mentors, including the FSBDC at UNF, for support and inspiration.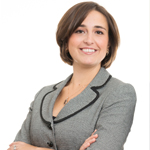 "When I decided to open my own practice, I wanted to become a smarter business owner. I surrounded myself with more established and experienced business owners through Women Business Owners and started working with the FSBDC at UNF. These two resources were instrumental in assisting me in the strategic planning for my business model."
- Kate Mesic, Owner - Law Offices of Kate Mesic, PA