Did you know…
that small businesses support an estimated 43.5% of Florida's $1 trillion and growing economy?
Florida is growing.
By 2030, Florida is projected to have 26 million residents.
Florida's small businesses will create 70% of the 1.5 million net new jobs needed.
Small business success will be imperative to meeting Florida's future growth and workforce needs.
The Florida SBDC Network estimates that, in order to support the state's growing economic base and employment needs, Florida will need to foster the creation of 500,000 new small businesses and support the expansion of its existing small businesses.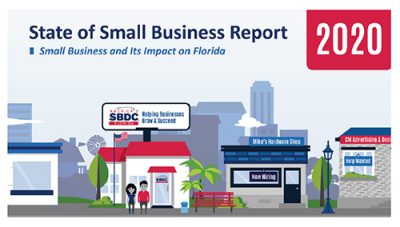 Learn more about the role our state's small businesses will play in Florida's economic future by reading the Florida SBDC's new State of Small Business Report.
This report is a compilation of data and research from various sources regarding the study of small businesses.
---