Staff, Partners Recognized for Efforts in Support of Florida Businesses
Florida SBDC Network Headquarters (Pensacola, Fla.) – The Florida SBDC Network, the state's principal provider of business assistance, is pleased to announce the winners of the 2017 Performance Excellence Awards. The awards, which were presented June 14th in St. Augustine as part of the network's annual conference, recognize top personnel, volunteers, and partners for their contributions to the network's mission of helping the state's small businesses grow and succeed.
"Congratulations to our 2017 Performance Excellence and service year award recipients," said Michael Myhre, CEO and Network State Director of the Florida SBDC. "These individuals work tirelessly to ensure our state's entrepreneurs and small business owners receive the resources and expertise needed to succeed."
Florida Level Awards
The Florida State Star Award was presented to Yolanda Cowart, a business consultant for the Florida SBDC at the University of South Florida - Pinellas County Economic Development. The State Star award, the highest accolade achievable by SBDC employees, recognizes extraordinary performers who have made strong contributions to their state network. Since 2012, Cowart has delivered over 3,300 hours of business consulting to clients, resulting in 827 jobs created and retained, over $6.5 million in capital accessed, nearly $30 million in sales increased, and over $26 million in government contract awards. As part of the award, Cowart will be honored among State Star awardees from SBDCs across the country as part of the 37th Annual America's SBDC Conference in September in Nashville.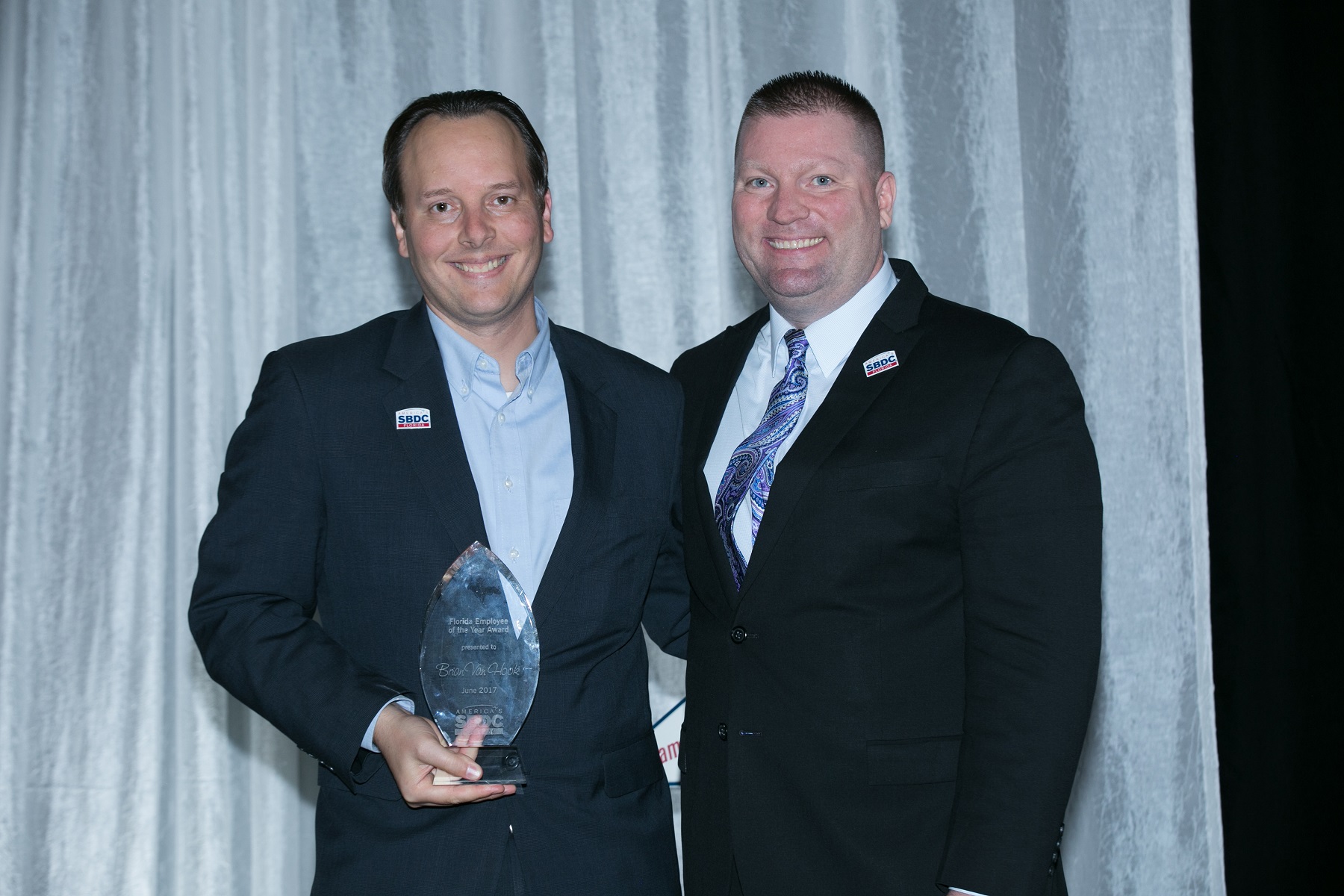 The Florida Employee of the Year Award was presented to Brian Van Hook, associate director of the Florida SBDC at Florida International University (FIU). Earlier this year, Van Hook organized and led an extremely successful cybersecurity event with JP Morgan Chase and other partners that drew more than 150 attendees. Van Hook also worked with the FIU Extreme Events Institute and the U.S. Agency for International Development to develop Bizaster, a mobile disaster-preparedness application for businesses. He is a Certified Business Continuity Professional with over 12 years of experience with business continuity and cybersecurity issues.
The Florida Rising Star Award was presented to Danielle Gal, a consultant for the Florida SBDC at the University of Central Florida (UCF). The Rising Star award, a new honor bestowed by the network, acknowledges the exceptional achievements by an individual under the age of 35 with less than five years of service. Gal, who holds her Certified Global Business Professional (CGBP) certification through the National Association of Small Business International Trade Educators (NASBITE), has served as an influential part of the Florida SBDC at UCF since joining in 2013. In her role as Program Coordinator, she conducts extensive international market research, market analyses, industry analyses, and financial and competitive analyses for clients. She recently earned her masters degree in Human Resources Management from Rollins College.
The Florida Best Practice of the Year Award was presented to the Florida SBDC at FIU in recognition of its Bizaster app, a mobile disaster-preparedness app for Android and iOS. Available in English and Spanish, Bizaster features risk assessments, customizable checklists, and other resources to help businesses prepare, respond, and recover from natural and man-made disasters. The Florida SBDC at FIU partnered with FIU's Extreme Events Institute and the U.S. Agency for International Development Office of Foreign Disaster Assistance to develop the app.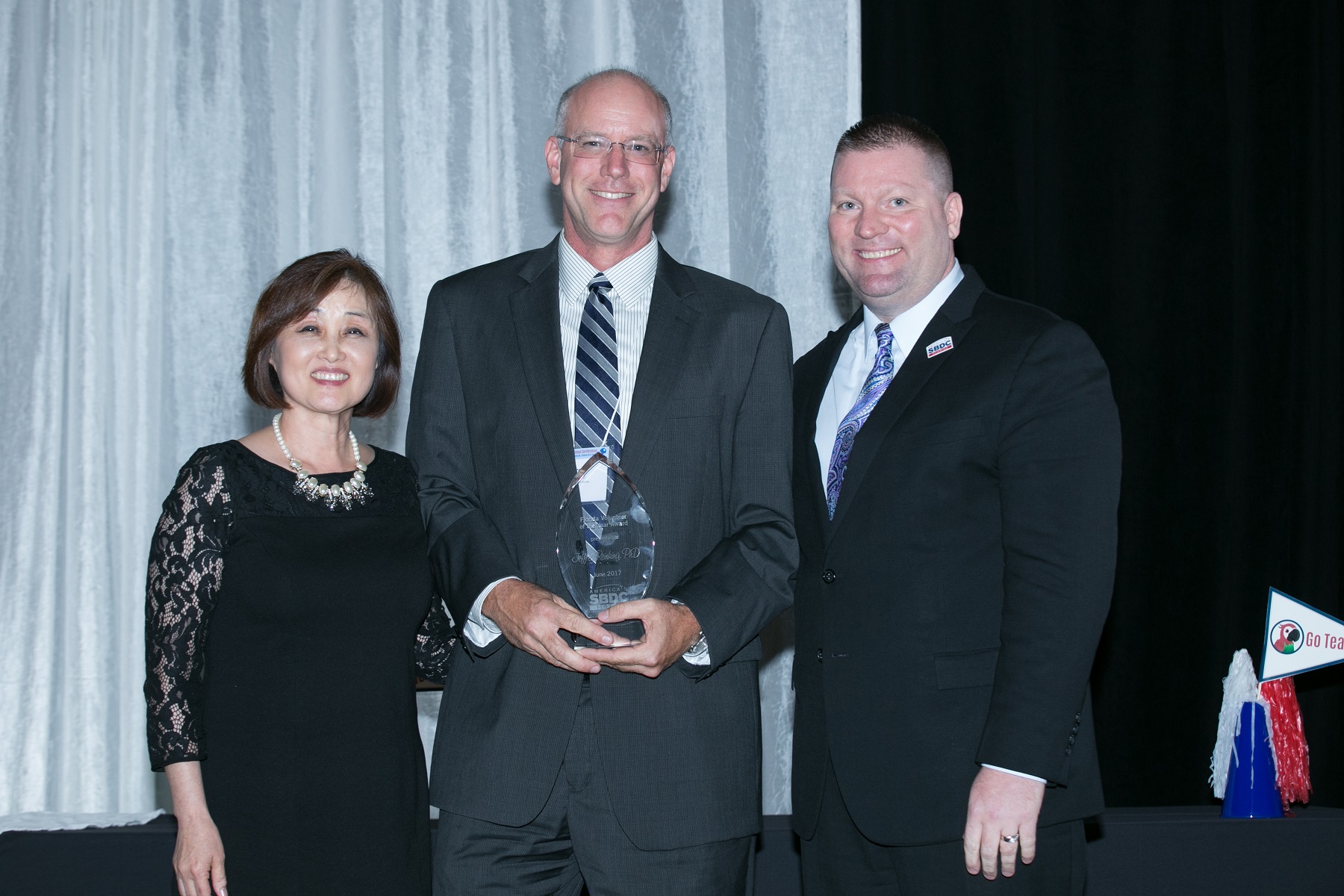 The Florida Volunteer of the Year Award was presented to Dr. Jeff Reinking, lecturer and assistant director of accounting at UCF, in recognition of his extraordinary service to the region's Advisory Board Council (ABC) program. As a dedicated and longtime volunteer advisor since 2006, Dr. Reinking has donated nearly 300 hours of pro-bono consulting services to small business owners across the Central Florida region.
The Florida Resource Partner of the Year Award was presented to Florida Trend Magazine. Florida Trend has served as an invaluable media partner to the network, having provided the network an opportunity to contribute content and client success stories in its annual Florida Small Business magazine.
The network awarded the Florida Student Project of the Year Award to the Florida SBDC at UCF in recognition of the region's work with UCF MBA students Alex Hinkle, Gary Muzzonigro, and Jason Osorio. For the project, the team prepared an in-depth market assessment, competitive analysis, and contract implementation and scaling plan for USA Shoe Company, a family-owned business that provides shoe repairs for the local entertainment industry.
Regional and Service Year Awards
As part of the awards, the network also recognized exemplary employees and partners for making significant contributions to their respective SBDC regions and for achieving service year milestones. Regional awards were earlier presented to recipients at local events organized by the regional center. To view the list of regional and service year winners, please click here.
To view more pictures from the 2017 Annual Conference, please click here.