Florida SBDC Network Headquarters (Pensacola, Fla.) - The Florida Small Business Development Center (SBDC) Network, the state's principal provider of small business assistance, and Florida Atlantic University (FAU) are pleased to announce the selection of Rafael Cruz as the regional director of the Florida SBDC at FAU, effective December 4, 2017.
As regional director, Cruz will provide strategy and oversight of business development efforts in Broward and Palm Beach counties. The selection was made following a statewide search for a new host institution for a Florida SBDC office serving Broward and Palm Beach counties, after which FAU was announced.
Cruz has worked for the Florida SBDC Network for 16 years, most recently serving as the regional director of the Florida SBDC at Fort Lauderdale. Under his leadership, the region has delivered substantial economic impact. Since 2011, as a result of assistance received, clients created, retained, and saved 18,588 jobs, generated sales of $2.4 billion, acquired $29.2 million in government contract awards, accessed $124.9 million in investment capital, and started 191 new businesses.
"We are very pleased to announce Rafael's selection to this new role," said Michael Myhre, CEO of the Florida SBDC. "His proven track record and deep sense of commitment to small business development will provide the leadership needed to foster economic growth and development in the region."

"We are very pleased to welcome Rafael Cruz to Florida Atlantic University," said Daniel C. Flynn, Ph.D., vice president for research at FAU. "Rafael's leadership and knowledge in business development as well as his numerous contributions in Broward and Palm Beach counties will provide the perfect blend of expertise to ensure that small and medium-sized businesses alike will have the guidance and opportunities needed to succeed and thrive in this region."
During his tenure with the Florida SBDC, Cruz developed the Creative Entrepreneur Development Program, a first of its kind program in the state to work with businesses in the creative economy. Under his leadership, the program has trained over 700 artists on the principles of business through a relationship forged with Broward County's Cultural Division.
Cruz has also advised the Urban League of Broward County and Hispanic Unity, the largest social serving organizations in the region. Cruz has served as a judge for the Miami Herald's annual Business Plan Challenge for over ten years. He serves on the Greater Fort Lauderdale Alliance's Partners Council.
Prior to joining the Florida SBDC Network in 2001, Cruz managed the Western Hemispheric Service and Support operations for MAPEI Corporation, a global leader in the development, manufacturing, and distribution of specialty adhesives and grouts.
"Our region—a great place to live, work and play—is experiencing a vibrant blossoming of a truly entrepreneurial ecosphere and FAU is central to that development," said Cruz. "The Florida SBDC at FAU team is honored and privileged to be a part of the community of economic and small business development professionals serving the wonderful business owners and entrepreneurs in our region."
As part of its service offering, the Florida SBDC at FAU provides aspiring and existing small businesses in Broward and Palm Beach counties with no-cost consulting, low-cost training, and access to business data and research resources. In addition to its core service offering, the Florida SBDC at FAU also offers specialized services to qualifying companies, including capital access, market growth, government contracting, international trade, business continuation, cybersecurity, disaster planning and recovery, and more.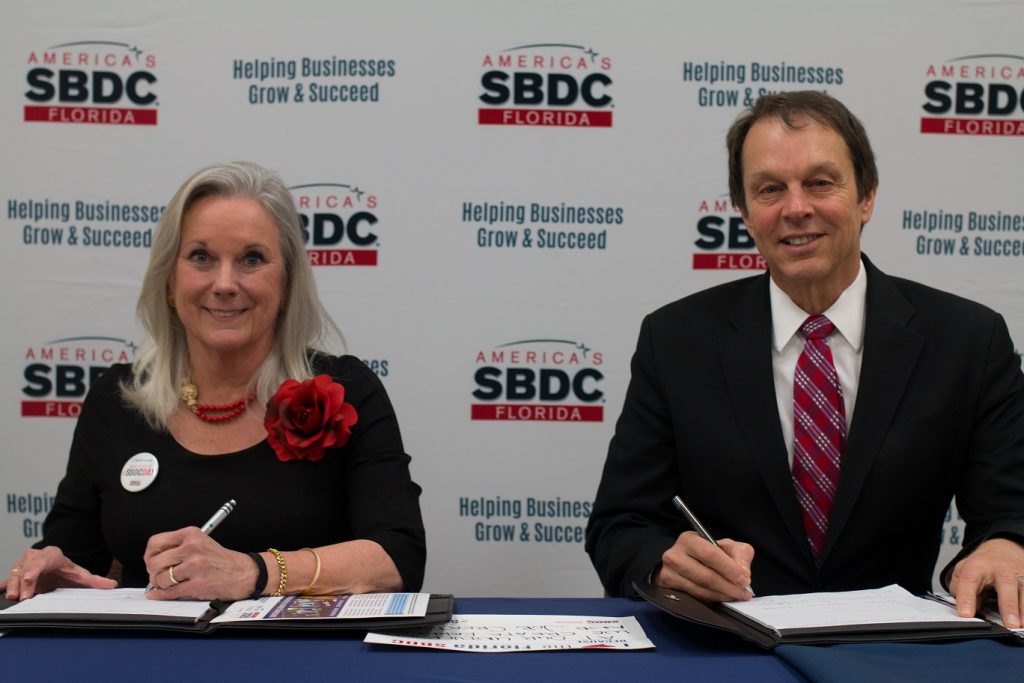 The Florida SBDC at FAU is a member of the Florida SBDC Network, a statewide service network of more than 40 centers providing entrepreneurs and small businesses with the knowledge, resources, and expertise to grow and succeed.
Headquartered at the University of West Florida (UWF) in Pensacola, the Florida SBDC Network partners with Florida's state universities, colleges, and other economic development organizations to assist small and medium-sized businesses through all stages of business. FAU becomes the eighth state university to serve as a Florida SBDC regional host partner joining Florida A&M University, the University of North Florida, University of Central Florida, University of South Florida, Florida Gulf Coast University, Florida International University, and the University of West Florida.
The Florida SBDC at FAU, which officially opened January 2, is open Monday through Friday from 8:00 a.m. until 5:00 p.m. at its Fort Lauderdale office located at 111 Las Olas Boulevard, Higher Education Complex, Suite 1009. The Florida SBDC at FAU will open additional offices in the region and will announce those locations soon.
To commemorate the new partnership, UWF President Martha Saunders, FAU President John Kelly, and Florida SBDC Network CEO Mike Myhre participated in a ceremonial signing during last month's State University System Board of Governors meeting in Tallahassee.
For more information about the Florida SBDC at FAU or to register for consultant services, please visit https://sbdc.fau.edu/.