Organizations partner to increase collaboration, awareness of resources and export services
(ORLANDO, Fla.) - September 20, 2016 – The Florida SBDC Network and Hispanic Business Initiative Fund of Florida (HBIF) have signed a Memorandum of Understanding (MOU) to increase cooperation and awareness about the resources and exporting services the organizations provide to help Florida's small businesses succeed. The MOU was signed yesterday by HBIF Statewide President and CEO Augusto Sanabria and Florida SBDC Network CEO and State Director Michael Myhre as part of the Florida SBDC's 40th anniversary awards ceremony in Orlando.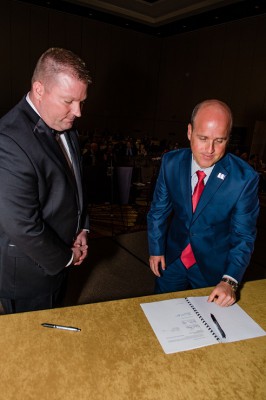 HBIF, the leading Hispanic nonprofit economic development organization in the state, specializes in providing bilingual business development services to Hispanic entrepreneurs who wish to expand or start a business. HBIF programs include consulting, business seminars in Spanish, grants for subcontracted projects, and loan facilitation. Among its services, HBIF offers an Export Assistance grant to help Hispanic business owners assess export readiness, evaluate their export potential, identify potential target markets, and recommend distribution channels and promotion tools.
"HBIF has built relations with SBDC offices across Florida for many years, but this agreement will foster even greater collaboration," said Sanabria. "This partnership will allow us to offer additional resources to entrepreneurs and complement each other's strengths, leading to greater economic development."
The Florida SBDC Network, the state's principal provider of business assistance, provides consulting, training, and information to existing and aspiring businesses.  Through the network's International Trade Services, businesses that are new-to-export or are looking to grow through exports receive training and consulting that exposes them to profitable management practices and international marketing techniques.
Through a partnership with Enterprise Florida and the U.S. Commercial Service, International Trade Specialists prepare Export Marketing Plans (EMPs) for qualifying Florida-based manufacturers and service providers.  Specialists spend approximately 100 hours on each EMP, creating a customized report with target market recommendations, overseas trade opportunities, and an action plan for market entry.
Through the agreement, the Florida SBDC Network will refer Hispanic entrepreneurs and those who do not meet EMP eligibility requirements to HBIF for assistance. In turn, HBIF will refer non-Hispanic business clients and those who are in advanced stages of business to the Florida SBDC for assistance.
"Our mission is to help Florida's small businesses grow and succeed," said Myhre. "Establishing strategic partnerships such as with the Hispanic Business Initiative Fund of Florida provides opportunities to streamline services to better serve Florida's small business community."