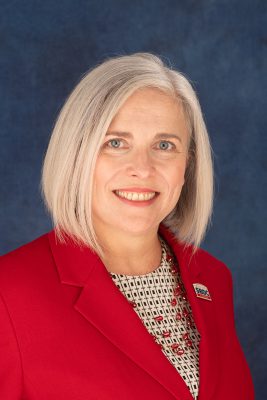 State's principal provider of small business assistance selects Kirby to lead strategy, operations
Florida SBDC Network Headquarters (Pensacola, Fla.) – The Florida Small Business Development Center (SBDC) Network, the state's principal provider of small business assistance, today announced that Dr. Cheryl Kirby, chief operating officer, will serve as the organization's interim chief executive officer.
"Small businesses are facing unprecedented challenges due to the coronavirus pandemic," said Kirby. "It's an honor for me to serve as interim CEO during this time and ensure we continue serving and advocating for small businesses with the same level of passion for which we're known."
The announcement comes following the departure of Michael W. Myhre, who resigned to accept an opportunity outside of public service after serving as CEO for a decade.
"We are grateful to Mike for his exemplary service to our network," said Kirby. "Under his leadership, the network has achieved unprecedented milestones. Florida and our state's small businesses have benefited from his leadership and advocacy. I appreciate his mentorship and all that he has done to ensure a seamless transition during this time."
"This was a difficult and emotional decision that I reached after much reflection and prayer," said Myhre. "Over the past ten years, I've had the distinction and honor to lead and stand alongside some of the best and most dedicated professionals and partners dedicated to the success of small businesses in Florida. I am proud of all we have accomplished together and want to thank the team and our partners for their support. The Florida SBDC is in a strong position for continued success and the course to a bright future is set by continuing to execute the strategy and vision we built together."
Kirby will serve as interim CEO for a year while the University of West Florida, the headquarters of the Florida SBDC Network, conducts a national search.
"Cheryl has played an important role in the success and expansion of the Florida SBDC Network," said UWF President Martha D. Saunders. "She has a deep understanding of organizational strategy and human capital development and has demonstrated exceptional leadership during her time with the network. We will benefit from her wisdom and leadership during this time of transition."
Kirby has worked for the Florida SBDC Network since 2011, previously serving as chief branding and strategy officer. Under her vision to drive an organizational culture committed to innovation and continuous improvement, Kirby has led the network through the attainment of many strategic initiatives, including a successful rebranding and accreditation, the development and implementation of the network's strategic plan and, the Florida SBDC's application for the 2016 Governor's Sterling Award, whereby the network received a best practice award for its Quality Improvement Program.
"On behalf of the America's SBDC Board of Directors, I would like to express our enthusiastic support for Cheryl to serve as interim CEO of the Florida SBDC Network," said Charles "Tee" Rowe, president and CEO of America's SBDC, the association representing SBDCs nationally. "She is a bright and dedicated leader and we have benefited from her work serving on our accreditation and legislative committees. We are excited to work with her moving forward."
Kirby has over 20 years of experience in marketing, training, innovation leadership, and strategic planning. She earned a bachelor's degree in Communication Arts and a master's degree in Health Communication Leadership from the University of West Florida. She earned her Ph.D. in Human Capital Development from the University of Southern Mississippi.
For more information about Cheryl, please visit www.FloridaSBDC.org/about-us/press-kit.