Florida's middle market businesses are thriving, beating the national rate in year-over-year revenue growth during the 2nd quarter of 2016.
That's according to the "Middle Market Indicator" from the National Center for the Middle Market, which reported that revenue from mid-size businesses in Florida grew 8.5 percent, while the national rate stood at 7.2 percent. Florida companies also reported 5.9 percent employment growth over the past 12 months, versus 4.4 percent nationally.
Florida's construction market along with wholesale trade and business services have been among recent strong performers, said Thomas Stewart, executive director of the National Center for the Middle Market.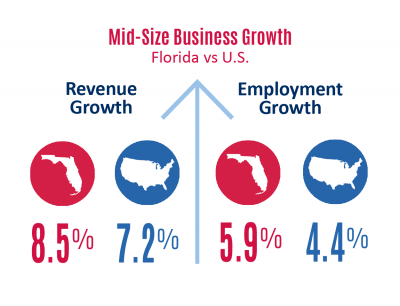 "You see some interesting patterns," Stewart said. "But right now, you see in the last 12 months mid-sized companies in Florida have been really burning up the tracks."
With that surge in revenue, middle market companies in Florida are also preparing for growth, with two-thirds or 66% of firms indicating that they are preparing for growth through capital investment.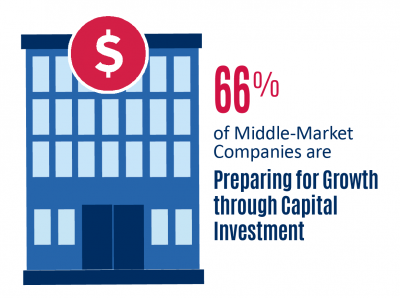 Middle market businesses are defined as those that bring in between $10 million and $1 billion in annual revenue. There are about 7,000 middle market businesses in Florida that account for a total of $277 billion in annual revenue, according to the National Center for the Middle Market.
While Florida's middle market companies are outperforming the national average—they make up 25 percent of the state's business revenue and employ 21 percent of the state's workforce—the Sunshine State ranked the lowest in the proportion of firms in the middle market. In Florida, the percentage of middle market companies is nearly half the national average—.48 compared to 0.96 nationally.
"Florida's middle market companies are important drivers of our state's economy, but often are not well understood or represented," said Michael Myhre, CEO and Network State Director for the Florida SBDC.
This article is a series as part of the 2016 State of Small Business Report: Small Business and Its Impact on Florida, a report developed by the Florida SBDC Network in collaboration with the University of West Florida Center for Research and Economic Opportunity. To read the full report, please click here.