On Wednesday, March 20th the Florida SBDC Network will celebrate the third annual national SBDC Day. You're invited to help us celebrate this special day!
What is SBDC Day?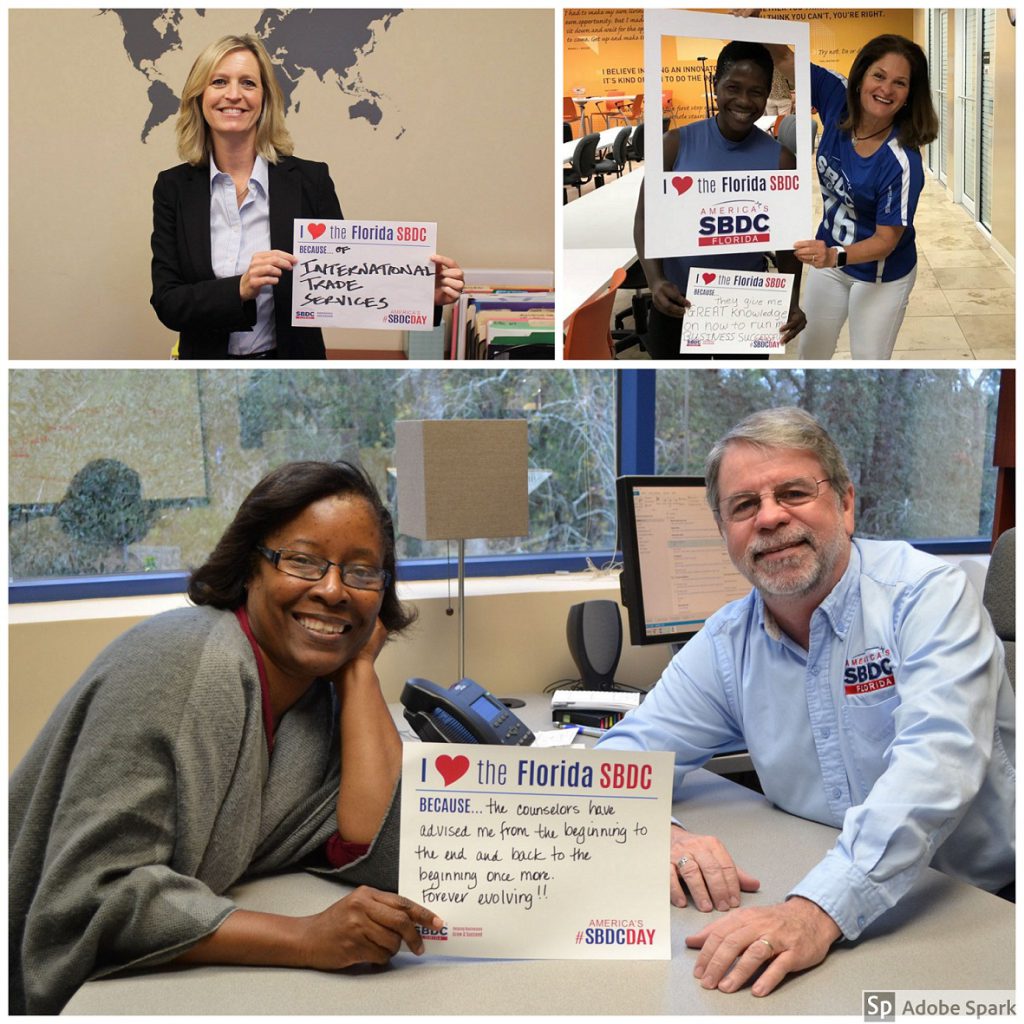 SBDC Day is a national, collective proclamation of the success and impact that America's Small Business Development Centers (SBDCs) foster each year. Established by Congress in 1980, SBDCs provide consulting, training, and resources to aspiring and existing small businesses. Whether you have an idea and are just starting out, or you're an existing business looking to grow, SBDCs have the right tools and specialized expertise to help you achieve success.
SBDC Day will unite the nearly 1,000 SBDC centers across the country and the hundreds of thousands of clients they serve each year by sharing, in real time, the success stories and notable impacts SBDCs collectively have on the small business community at large. This special day will be celebrated through social media, open houses, events, the media, and more.
What is the Florida SBDC Network?
For over forty years, the Florida SBDC Network has served as the state's principal provider of small business assistance. Headquartered at the University of West Florida in Pensacola, the Florida SBDC Network has more than 40 offices from Pensacola to Key West to serve the needs of Florida's small businesses. The network offers no-cost, personalized consulting in areas including access to capital, disaster resiliency, strategic planning, international trade, government contracting, and more. As part of its service offering, the Florida SBDC also offers hundreds of workshops each year ranging from the basics to advanced business management. Learn more about the Florida SBDC and our impact here.
How Do I Join the Celebration?
We're calling all of our clients and partners to help us celebrate! Participating is easy:
Download our "I Love the Florida SBDC Because" flyer and share how the Florida SBDC has made a difference in your life and community. Fill it out and share on social media using the #SBDCDay hashtag on Wednesday, March 20th!
Share how the Florida SBDC Network has made a difference for your business and in your community by tagging us on Facebook, Twitter, and Instagram and using the #SBDCDay hashtag
Write a letter to your local representative sharing how the Florida SBDC Network has made a difference in your life
Interested in becoming a client or haven't seen us in a while? Contact your local Florida SBDC and schedule a no-cost consulting appointment with us!
Tell your friends about us! SBDCs are known as "the best-kept secret"