Live venue operators affected by the COVID-19 pandemic will have an opportunity to apply for a grant to help them get back on their feet starting April 8. The Small Business Administration (SBA) will open the portal for applications for the Shuttered Venue Operators Grant (SVOG) program. Find the portal here.
The SVOG program includes more than $16 billion for eligible applicants who have experienced at least a 25 percent drop in revenue. Here is an overview of the program, based on information provided by the SBA.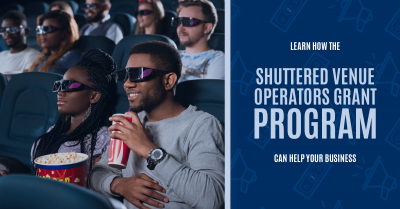 Timeframe
The SBA will process applications on a rolling basis, starting April 8. The submission window will remain open until funds become exhausted. 
Who Can Apply
Live venue operators or promoters.

Theatrical producers.

Live performing arts organization operators.

Relevant museum operators, zoos and aquariums who meet specific criteria.

Motion picture theater operators.

Talent representatives.

Each business entity owned by an eligible entity that also meets the eligibility requirements.
What are the Eligibility Requirements?
Must have been in operation as of February 29, 2020.

Venue or promoter who received a PPP loan on or after December 27, 2020, will have the SVOG reduced by the PPP loan amount.

Applicants may not apply for a PPP loan after receiving SVOG.

Applicants may be eligible for a supplemental SVOG award.

Applicants may apply for EIDL but it cannot be used for the same purposes/costs as SVOG.
Allowable Use of Funds
Payroll costs, rent payments, utility payments 

Scheduled mortgage and debt payments (not including prepayment of principal), or any indebtedness incurred in the ordinary course of business prior to 02/15/20) 

Worker protection expenditures

Payments to independent contractors (not to exceed $100K in annual compensation per contractor)

Other ordinary and necessary business expenses, including maintenance costs 

Administrative costs (incl. fees and licensing)

State and local taxes and fees

Operating leases in effect as of 02/15/20

Insurance payments 

Advertising, production transportation, and capital expenditures related to producing a theatrical or live performing arts production. (May not be the primary use of funds.)
Preparing for Application
Before filling out the SVOG application in the portal on April 8, applicants will need to do some preliminary steps.
First, obtain a Data Universal Numbering System (DUNS number) Visit:

https://fedgov.dnb.com/

. This is a no-cost process.

Next, register in the System for Award Management (SAM) with the U.S. government. Visit:

https://sam.gov/SAM

. This is also a no-cost process.

Note:

To register in SAM, you must first obtain a DUNS (Data Universal Number System) number.
Additional information and a step-by-step guide for getting a DUNS number and registering in SAM is available by watching a quick  SBA-produced informational video, here. 
Begin collecting documents on the

Application Checklist

.

Read the

Notice of Funding Opportunity.
Where to get help. 
The technicalities of applying for SVOG might seem overwhelming, but small business owners don't have to navigate the process alone. There are more than 45 Florida Small Business Development Center (SBDC) offices from Pensacola to Key West. The Florida SBDC employs certified business consultants who can help you apply.
For more information about the SVOG program, and how the Florida SBDC can help, visit www.FloridaSBDC.org/svog.