Loan to Enable St. Augustine-Based Viola's Pizza Pasta & Seafood Restaurant to Stay In Business, Resume Operation Following Hurricane Irma
Florida SBDC Network Headquarters (ST. AUGUSTINE, FLA.) – The Florida SBDC Network, the state's designated principal provider of small business assistance, is pleased to announce the closing of the first Florida Small Business Emergency Bridge Loan following Hurricane Irma. The State of Florida-backed bridge loan of $25,000 was presented to Helen and Andy Viola, owners and operators of Viola's Pizza Pasta & Seafood Restaurant located at 6149 A1A South in St. Augustine. Accompanied by staff from U.S. Senator Marco Rubio's office during his sponsorship of a comprehensive recovery event on Monday, the check was presented to the Viola's by Michael Myhre, CEO for the Florida SBDC Network. Myhre was also accompanied by James K. Johns, Chair of the St. Johns Board of County Commissioners; Cyndi Stevenson, State Representative for District 17; and Melissa Glasgow, Director of Economic Development for St. Johns County.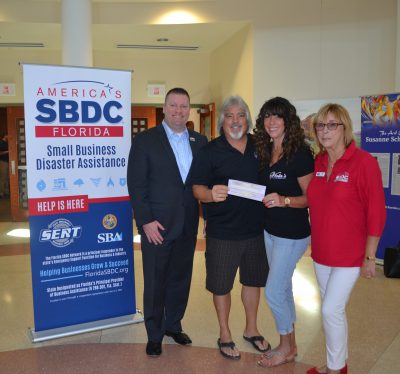 Viola's Pizza Pasta & Seafood is a family-owned restaurant specializing in New York-style pizza, fresh seafood, and authentic, made-from-scratch Italian food. Last week, the restaurant sustained devastating damage to their dining room floor due to flooding and total loss of their food inventory due to Hurricane Irma.
"Water got underneath our dining room and our floors buckled," said the Viola's. "With no power for seven days, we also lost our entire food inventory."
Having the need for immediate capital to resume business operations and avoid further economic injury, the Viola's applied for a Florida Small Business Emergency Bridge Loan. Administered by the Florida Department of Economic Opportunity, in collaboration with the Florida SBDC Network, and supported by Florida First Capital Finance Corporation (FFCFC), the Florida Small Business Emergency Bridge Loan is a short-term, interest-free working capital loan intended to help small businesses "bridge the gap" between the time of a declared disaster and when the business has secured long-term recovery resources, such as insurance proceeds or federal disaster assistance. Governor Rick Scott activated the Florida Small Business Emergency Bridge Loan program on Thursday, September 14 and the first loan was distributed the following Monday.
"We've been proud to donate our services to administer the distribution of Emergency Bridge Loans in Florida since the program's creation 25 years ago," said Todd Kocourek, President & CEO of Florida First Capital Finance Corporation.  "We know it's imperative that disaster-impacted small businesses have quick access to working capital to restart their operations – without it, some may never open their doors again."
With help from Marge Cirillo, certified professional business consultant and disaster recovery specialist for the Florida SBDC at the University of North Florida (UNF), the Viola's were able to secure a bridge loan to replace their floor, order new food inventory, and retain their employees.
"We are proud to work with our partners at the Florida Department of Economic Opportunity and Florida First Capital Finance Corporation to help small businesses like Viola's get the resources they need to rebuild as quickly as possible following Hurricane Irma," said Myhre. "We'd like to thank Governor Scott for his leadership in expediting the bridge loan program's activation and we look forward to helping small businesses across the state secure the necessary financial and intellectual resources they will need to rebuild."
Unfortunately, Viola's is no stranger to the bridge loan program. In October 2016, the restaurant lost nearly everything in their restaurant due to Hurricane Matthew. Not only did they lose ovens, coolers, the bar, and office furniture, the Viola's also had 25 employees and their families who depended on Viola's for paychecks.
With help from Cirillo, the Viola's secured a bridge loan within days to pay salaries and bills and begin purchasing new equipment.
"As soon as Irma hit, we called Marge with the Florida SBDC at UNF," added the Viola's. "The process was seamless."
Despite the restaurant's recent misfortune, they have found their silver lining: their sales are up 30 percent over last year.
For more information about the Florida Small Business Emergency Bridge Loan, please visit www.FloridaDisasterLoan.org.
For questions about the Emergency Bridge Loan Program, the U.S. SBA Physical and Economic Injury Loan Programs, and how the Florida SBDC can help, please contact the Florida SBDC Network at (850) 898-3489 or Disaster@FloridaSBDC.org.  The phone line will be answered during regular business hours; all voice mails and emails will be responded to within 24 hours.