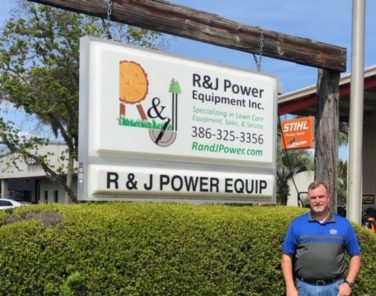 As an Air Force Veteran working for big corporate business for over 30 years, Ralph Sevearance knew one day he wanted to be a business owner. Both he and his son Josh knew the owners of a local business and began discussions about buying the business. They understood the type of business and were excited at the fact they could one day be business owners.
Seeking help with the process, they turned to Cheryl Lynch, a consultant for the Florida SBDC at UNF in Putnam County, for assistance. Lynch helped Ralph and Josh understand what was necessary to find financing, the requirements, and the research they had to do for a business plan. Additionally, she helped them understand the necessary steps they needed to close the deal. Along the way, the plans changed and Ralph decided to pursue sole ownership instead of partnering with his son.
"Cheryl held my hand through the whole process. It took us six years, from the start of this idea of buying a business to closing the deal, but she stood by us all the way to help and answer questions," said Ralph.
When asked how the Florida SBDC at UNF helped him specifically, Ralph stated:
"She helped me plan and get ready for my new venture. Writing a business plan is no easy task, but Cheryl was there to ensure we had all the required information the banks would be looking for. She also opened my eyes to what being a small business owner was going to be like. She helped with all the paperwork with the lending institution and was able to put me in contact with the right resources I needed. Any question I had, she was able to guide me in the direction I needed. She basically helped with everything. I don't think this would have happened without the help of Cheryl".
On January 1st, 2019, Ralph became the new owner of R&J Power Equipment located in Palatka.