Disaster is a team effort. Read this story about partners working together to help Florida's small businesses recover from Hurricane Irma.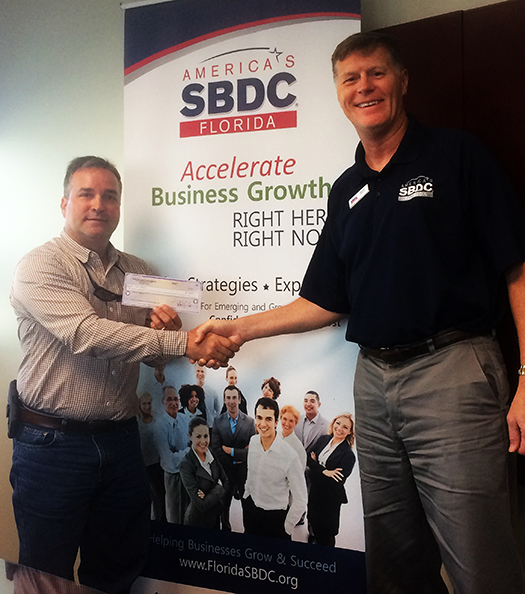 While Carbon Marine's headquarters are based in Tampa, the company's client-base stretches from Key West to Tampa Bay. Established in 2007, Carbon Marine manufactures products for in-shore, shallow-water fishing, also known as sight fishing.
Not sure how to maintain operations as his customer base works to rebuild after the storm, Welbourn sought assistance from the Florida SBDC at the University of South Florida to secure a Florida Small Business Emergency Bridge Loan. When asked about his experience with the storm and the assistance received, he recalled:
What type of damage occurred?
Hurricane Irma wiped out 80 to 90 percent of Carbon Marine's customer base. This left owner Joseph Welbourn, and the company in a precarious position.
How was the Emergency Bridge Loan helpful?
The process of obtaining this Bridge Loan via the Florida SBDC was incredibly fast. I was shocked at how easy the process was so long as you keep your documentation and keep a straight set of books. I think it's been maybe seven or eight days and I'm sitting at closing now so maybe two weeks from start to finish.

This Bridge Loan is going to help us because 80 to 90 percent of our customers were impacted by Irma. Our product market is from Tampa to Key West. We already experience a bit of cyclicalness so we're already in the quiet part of our business cycle but it's a double whammy because our customers that normally buy our products have been taken out of the marketplace by the catastrophe in the Keys and South Florida. This Bridge Loan is going to allow us to stay solvent during this downturn in revenue while anticipating the significant upturn once the folks that have been impacted recover and are financially sound.
How was the Florida SBDC at USF helpful during this process?
I'm a big fan of the Small Business Development Center – even before this Bridge Loan – because they empower the small business owner to understand their business and the importance of doing business the correct way, whether it be bookkeeping, procedures, where to get funding, how to get funding, etc. It's a phenomenal resource for the Tampa Bay market.

This has been interesting because I never thought through what the consequences of this type of event would be on the business, the economic impact side. When your business is predicated on South Florida and particularly fishing – I was born in Key West – so to see so much devastation in 80 to 90 percent of my customers...this helps us kind of have a little bit of a comfort and cushion to make it through as long as we're prudent and tactful with the decisions we make.
About the Florida Small Business Emergency Bridge Loan Program
Administered by the Florida Department of Economic Opportunity, in collaboration with the Florida SBDC Network, and supported by Florida First Capital Finance Corporation (FFCFC), the Florida Small Business Emergency Bridge Loan is a short-term, interest-free working capital loan intended to help small businesses "bridge the gap" between the time of a declared disaster and when the business has secured long-term recovery resources, such as insurance proceeds or federal disaster assistance. Governor Rick Scott activated the Florida Small Business Emergency Bridge Loan program on Thursday, September 14 and the first loan was distributed the following Monday. Eligible businesses with two to 100 employees may apply for loans up to $50,000 for 90 or 180-day terms.
As a principal responder in the state's Emergency Support Function for Business, Industry, and Economic Stabilization, the Florida SBDC Network supports disaster preparedness, response, recovery, and mitigation through its Business Continuation Services. As part of its service offering, Florida SBDC professionally certified consultants and disaster specialists are available to provide confidential, no-cost consulting to help affected businesses prepare disaster loan applications and with other post-disaster challenges.