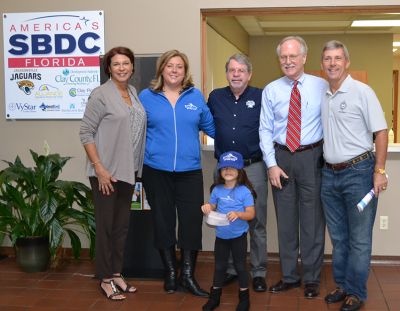 A story about partners working together to help small businesses overcome challenges to grow and succeed.
Ocean Movers is a professional moving company owned by Amber Sahbudak and based in Orange Park. In early October of 2016, Ocean Movers was impacted by Hurricane Matthew. Sahbudak turned to the Florida SBDC Network for assistance with securing a Florida Small Business Emergency Bridge Loan. When asked about his experience with the hurricane and the assistance he received, Sahbudak stated:
What type of damage occurred?
We had water damage to our inventory of packing supplies, which we had to dump; we had jobs cancelled and a large amount of lost revenue due to customers unable to move during and after the storm; loss of revenue due to contractors not showing up to work because of their own personal situation during/after the storm.
How helpful was the Bridge Loan?
The Bridge Loan not only allowed us to remain current on business expenses, but it also allowed us to offer small advances to contractors so they could come back to work. Most importantly, though, it gave us an opportunity to relocate into a larger location, allowing us to offer more job/work opportunities to people.
How helpful was the SBDC?
The assistance provided in the loan process was unsurpassed. From the immediate notification of its availability from the Florida SBDC and Clay Chamber, to the submission of documentation for review, to the PROMPT approval answer, and finally the issuing of funds. I wish all financial transactions were this pleasant and stress free. From my own experience, the Florida SBDC at UNF is an amazing asset to small businesses. I personally have been able to utilize trainings, networking events, and business funding. The Florida SBDC at UNF shows a strong presence, not just on a broad spectrum, but locally through Chamber of Commerces, JSEB office with the City of Jacksonville, and the UNF campus. It is obvious that a large amount of time, focus, and dedication is put towards helping and growing small businesses.
About the Florida Small Business Emergency Bridge Loan Program
Activated by the Governor and administered by the Florida Department of Economic Opportunity in collaboration with Florida First Capital Finance Corporation (FFCFC) and the Florida SBDC Network, these short-term, interest-free working capital loans are intended to help impacted businesses "bridge the gap" between the time a major catastrophe hits and when a business has secured long-term recovery resources, such as insurance claims or federal assistance. Eligible businesses with two to 100 employees may apply for loans up to $25,000 for 90 or 180 day terms.
As a principal responder in the state's Emergency Support Function (ESF) 18 for Business, Industry, and Economic Stabilization, the Florida SBDC Network supports disaster preparedness, response, recovery, and mitigation through its Business Continuation Services. As part of its service offering, Florida SBDC professionally certified consultants and disaster specialists are available to provide confidential, no-cost consulting to help affected businesses prepare disaster loan applications and with other post-disaster challenges.