As an immigrant and an Army veteran duo, Franziska and Joseph Scone are no strangers to hard work and dedication. While proud of the family and law practice they raised, the couple knew they wanted to work further in the community. So they bought a business.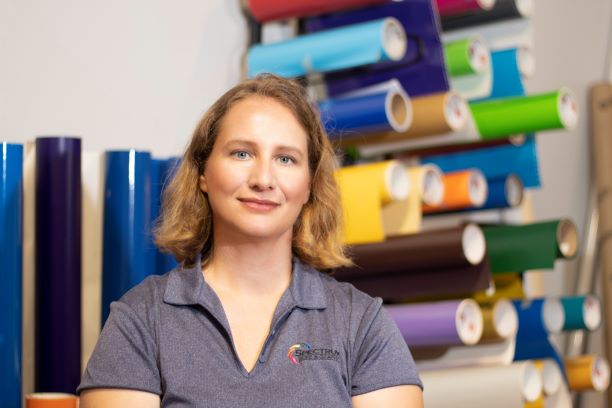 In May 2016, the Scone's bought Spectrum Signs and Graphics with a plan for Franziska to lead operations. Growing up in Germany, Franziska never considered owning her own business – let alone in America. She knew she needed help with a lot of details and information to effectively run the operations of her new company.
Wanting to lead and grow her business, Franziska sought the help of Florida SBDC at UNF. Consultant Kaitlyn Saavedra helped her to look at profits and people as key factors of growth. They worked through Florida SBDC's Profit Mastery series to learn the financial health, stability, and growth potential of her company. To dive into her culture and people, Kaitlyn consulted Franziska through Florida SBDC's Turbo-Charge Any Team® program to work with Spectrum Sign leaders and team members on better communication throughout projects. Spectrum Signs continues to work from knowledge learned in the Turbo-Charge Any Team® program to make sure they have the right team to take the company to the next level.
In addition, Kaitlyn also connected Franziska to a new insurance agent, accountant, and networking associations to help Spectrum Signs cut cost on insurance, streamline its bookkeeping, and make local connections with potential customers. A few connections were to the local Jax Bridges program and the national Goldman Sachs 10,000 Businesses program. Franziska took the opportunity to learn from peers and graduated both programs with deeper insights and tools for her business.
When it was determined Spectrum Signs was ready for the next area of consulting, Florida SBDC's online presence consultant collaborated to review Spectrum Sign's website, Google rankings and social media. Franziska worked with Florida SBDC specialist on her Google My Business account to gain greater online ranking and leads.
The consultant team also brought on Consultant Cheryl Lynch to assist with optimizing Spectrum Sign's QuickBooks accounting software. This has led to effective bookkeeping and current reports to make decisions like capital access for new equipment.
"When we run into a problem or an idea for growing our company, our first response is 'we should talk to the SBDC."
Since working with the Florida SBDC, Joseph and Franziska have seen better business operations overall. They have acquired new equipment, gained new customers, expanded into government contracting, and have hired two more employees. While enjoying the flexibility and opportunity to build their own work environment, Franziska says her favorite part of the business is seeing their work around the community.
"Because we do business signs and large scale signs, it is cool when we put up a completed project everyone can see. When you change the sign landscape, you have an active part in changing how Jacksonville looks."
For anyone thinking to buy a small business, Franziska suggests building your business network and seeking assistance.
"No business can stand on its own. Don't be afraid to ask for help."