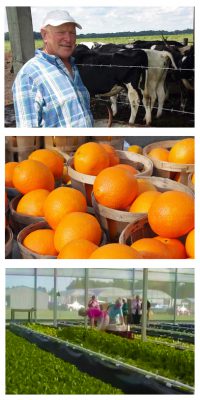 When:
Tuesday, April 9, 2019
9:00 am - 4:15 pm (CST)
Where:
USDA's County Extension Office
2741 Pennsylvania Avenue
Marianna, Florida 32448
Cost:  Free. Registration is required and includes a networking lunch.
REGISTER: CLICK HERE
Hotel Reservations:
Click Here to book your hotel at the SBA's group rate.
Contact: Thaddeus.Hammond@sba.gov | (904) 443-1965
Join rural chambers of commerce, economic and community development stakeholders, entrepreneurs, small businesses, bankers/lenders, state, local and federal government agencies, resource partners, and partner agencies for workshops, panel discussions, access to capital conversations, and networking with exhibitors.
Participants include, but are not limited to: Opportunity Florida, North Florida Economic Development Partnership (NFEDP), Rural Economic Development Initiative (REDI), Florida Department of Economic Opportunity (DEO), USDA Rural Development, U.S. Small Business Administration, U.S. Economic Development Administration (EDA), Florida A&M University, Florida SBDC Network, SCORE, Enterprise Florida, Inc., Apalachee Regional Planning Council, NE Florida Education Consortium, VBOC, Wealth Watchers, NW Florida League of Cities, Florida Department of Agriculture/Aquaculture Division, FloridaMakes, Early Learning Coalition of NW Florida, CareerSource Chipola, CareerSource Florida, lenders, and more!
Hosted by Opportunity Florida and presented by the U.S. Small Business Administration (SBA) and U.S. Department of Agriculture (USDA).
Reasonable accommodations for persons with disabilities will be made if requested at least two weeks in advance. Contact Thaddeus Hammond at SBA at (904) 443-1965 or Caroline Evans at (352) 338-3444. The USDA and SBA's cooperation in this event does not constitute or imply their endorsement of any opinions, products or services expressed. All USDA and SBA programs are extended to the public on a nondiscriminatory basis.