By: Charlene Bostic, PTAC Manager, FSBDC at USF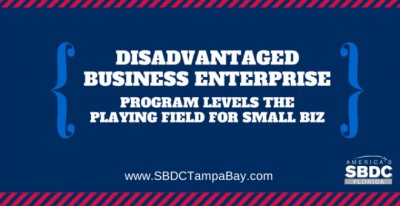 The world of government contracts is a competitive one. For many minority-owned or disadvantaged small businesses, the ability to compete can seem nearly impossible to get into.
Luckily for those disadvantaged small businesses, the Department of Transportation (DOT) has created a program to help level the playing field with the Disadvantaged Business Enterprise (DBE) program. DBE is a program that can be used to increase minority and disadvantaged small businesses participation gaining contracts from the three major DOT operating administrations: Federal Aviation Administration (FAA), the Federal Housing Administration (FHA) and Federal Transit Administration (FTA).
The program ensures that the three administrations reserve a certain amount of funding just for minority and disadvantaged small businesses.
To be eligible a business must:
• Must be a for-profit business
Must fall under the Small Business Administration sized standard
• Must be 51% owned by socially and economically disadvantage businesses
• Socially – minority owned (of African-American, Hispanic, Asian American and Native American decent)
• Financially – annual revenues must be less than a three-year average of $22.4 million
Without the program, a small business is competing against a vast amount of competitors that perhaps have more experience than those disadvantaged businesses. They perhaps have more contracts under their belt. Therefore, a firm that is disadvantaged or is new to the DOT, may have difficulties competing against those experienced or seasoned businesses that are out there.
Tips for DBE program admittance:
• Do your homework
• Research various programs that may be a better fit for your company
• Get certified
• Put in the effort
• Market and network
• Be persistent
The program is not mandatory for small businesses to compete for contracts. It is not impossible to win a contract without the program, but the difficulty is higher to get DOT projects and contracts without the program. For more information about the DBE certification, contact the FSBDC in your area.