Orlando-based Dignitas Technologies Recognized Among Select Clients Nationwide at National Showcase Reception
Florida SBDC Network Headquarters (Pensacola, Fla.) –
The Florida Small Business Development Center (SBDC) Network, the state's principal provider of business assistance, is pleased to announce that Dignitas Technologies, an Orlando-based modeling
and
simulation company led by President and CEO Elizabeth Burch and client of the Florida SBDC at the University of Central Florida (UCF), was recently recognized among select SBDC clients from across the country at a special reception on Capitol Hill.
America's SBDC
, the association representing SBDCs nationally, SBDC leaders, consultants, clients, partners and stakeholders gathered for the fourth annual 2018 Client Showcase and Reception on Tuesday, February 13
th
. Representative Steve Chabot of Ohio, Chairman of the Committee on Small Business, and Representative Nydia Velazquez of New York and Ranking Member of the Committee on Small Business addressed the reception guests. Dignitas Technologies was one of 11 clients from across the country recognized at the event.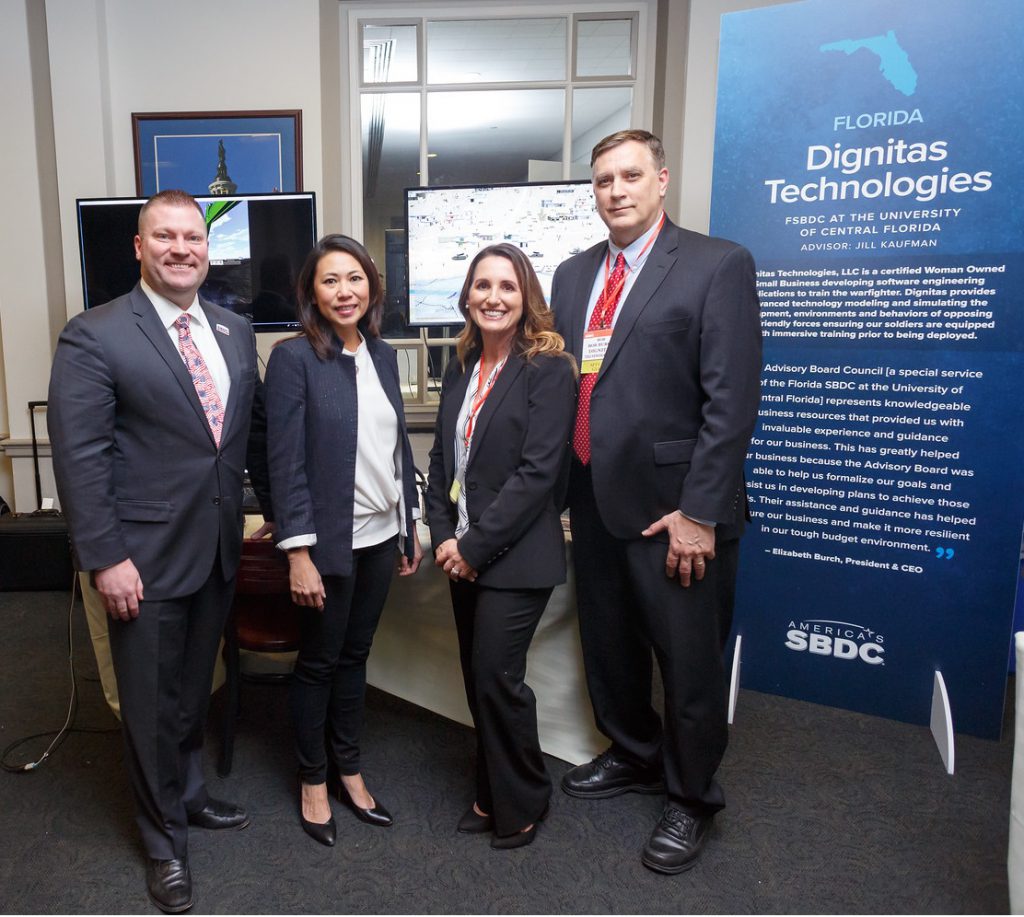 Founded in 2004, Dignitas Technologies is a certified woman-owned small business that provides support to the Modeling, Simulation, and Training industry across a diverse customer set. The company conducts cutting-edge research and develops innovative technology to build systems to train soldiers before they are deployed. These risk-free simulations save government resources and better prepare soldiers to face combat situations through synthetic training environments.
After purchasing the majority ownership of the company in 2010, Burch took steps to accelerate the company's growth. She sought help from the Florida SBDC and its Advisory Board Council, a special program of the Florida SBDC at UCF, which pairs clients with an advisory board to address the company's needs.
"The Advisory Board Council represents knowledgeable business resources that provided us with invaluable experience and guidance for our company," said Burch. "This has greatly aided our business because the Advisory Board enabled us to formalize our goals and then assisted us in developing plans to achieve those goals. Their support and guidance has helped mature our business and make it more resilient in our tough budget environment."
When Dignitas Technologies became a client of the Florida SBDC at UCF in 2011, the firm had a staff of 30 employees and annual revenue of $4.5 million. Under Burch's leadership and with assistance from the Florida SBDC at UCF, Dignitas Technologies has grown to 135 employees and $16 million in revenue in 2017.
In honor of her accomplishments, Burch was named the State of Florida Woman-Owned Small Business Person of the Year in 2013 by the U.S. Small Business Administration. In 2016, the Orlando Business Journal (OBJ) featured the company as a Fast 50 honoree and named them one of Central Florida's Largest Minority-Owned Businesses. Dignitas won the Association for Corporate Growth's SMART Award for Technology & Simulation in 2017 and was selected by the OBJ as an Innovations in Technology Award honoree and Best Places to Work finalist.  Dignitas was honored by Military Training Technology for six years in a row as one of their Top Simulation and Training Companies.
With nearly 1,000 centers across the country, SBDCs provide assistance to small businesses and aspiring entrepreneurs throughout the United States and its territories. Job growth for SBDC clients nationally is nearly 10 times greater than job growth for average businesses, and SBDC clients' sales growth is nearly four times greater than sales growth for businesses in general.
In 2016, America's SBDCs provided 1.24 million hours of consulting to 188,602 client businesses, resulting in 96,095 jobs created; $6.4 billion in sales growth; $5.16 billion in capital investments; and 17,174 new businesses started.
In Florida, the network has delivered substantial economic impact since its inception in 1976. Since 2011, Florida SBDCs have provided 513,107 hours of professional business consulting to 74,669 client businesses, resulting in 252,955 jobs created, retained, or saved; $33.3 billion in sales growth; $2.6 billion in government contract awarded; $1.4 billion in capital investments acquired; and 4,159 new businesses started.