Florida SBDC Network Headquarters (Pensacola, Fla.) - The Florida Small Business Development Center (SBDC) Network will celebrate the second annual SBDC Day on Wednesday, March 21, 2018. SBDC Day is a national movement to help raise awareness about the service offering and impact of America's SBDCs – the U.S. Small Business Administration's (SBA) largest business assistance program.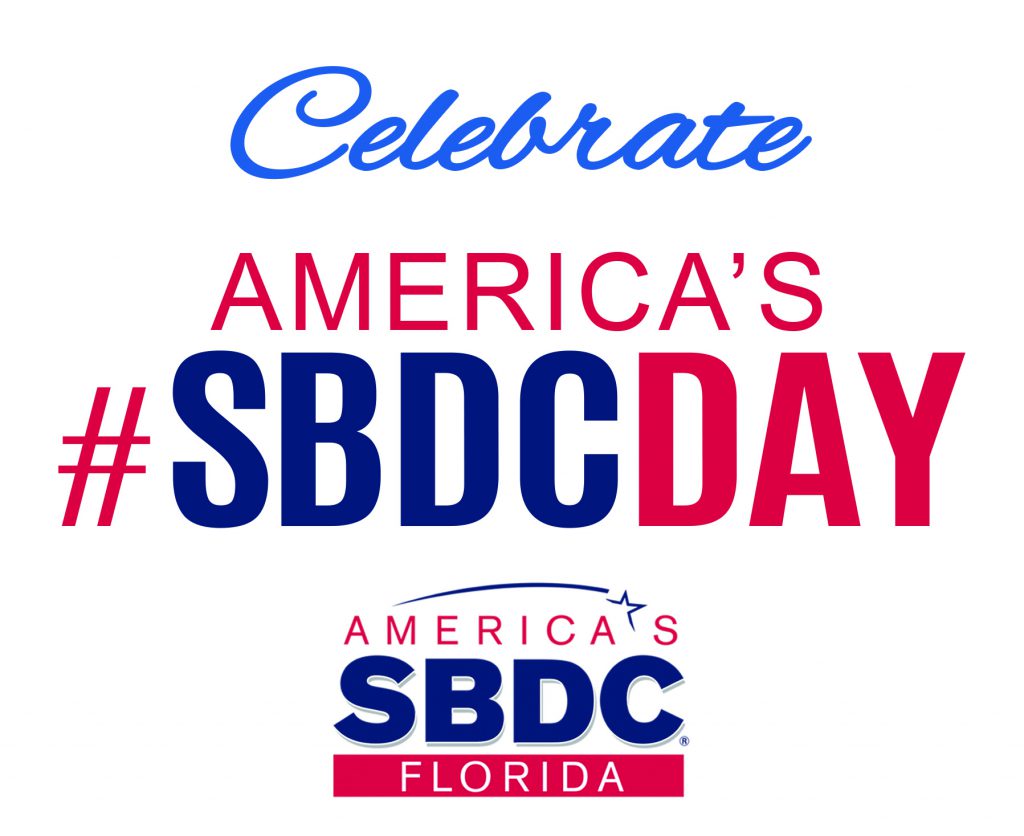 With nearly 1,000 centers across the country, SBDCs provide assistance to small businesses and aspiring entrepreneurs throughout the United States and its territories. Job growth for SBDC clients nationally is nearly 10 times greater than job growth for average businesses, and SBDC clients' sales growth is nearly four times greater than sales growth for businesses in general.
In 2016, America's SBDCs provided 1.24 million hours of consulting to 188,602 client businesses, resulting in 96,095 jobs created; $6.4 billion in sales growth; $5.16 billion in capital investments; and 17,174 new businesses started.
About SBDC Day
SBDC Day will unite SBDCs across the country and the nearly one million small businesses they collectively serve each year by sharing, in real time, the success stories and notable impacts SBDCs have on the small business community at large. Social media will play a central role on SBDC Day. This special day will also be celebrated through public relations, proclamations, and online and in-person workshops and events.
"It's great to see SBDCs, their clients and supporters come together to celebrate SBDCs and their amazing clients," said Charles "Tee" Rowe, President & CEO of America's SBDC. "With SBDC support, small businesses around the country raised over $5 billion in capital and created nearly 100,000 jobs."
State designated as Florida's principal provider of business assistance, the Florida SBDC is a statewide service network of more than 40 centers hosted by the state's universities, colleges, and economic development organizations. As part of the network's service offering, the Florida SBDC provides aspiring and existing small businesses with the expertise, resources, and tools to grow and succeed.
In addition to its core service offering, the Florida SBDC Network also offers specialized services to qualifying companies, including capital access, market growth, government contracting, international trade, business continuation, cybersecurity, disaster planning and recovery, and more.
The Florida SBDC Network has delivered substantial economic impact since its inception in 1976. Since 2011, Florida SBDCs have provided 513,107 hours of professional business consulting to 74,669 client businesses, resulting in 252,955 jobs created, retained, or saved; $33.3 billion in sales growth; $2.6 billion in government contract awarded; $1.4 billion in capital investments acquired; and 4,159 new businesses started.
"Too often, SBDCs are referred to as the 'best kept secret'," said Michael W. Myhre, CEO of the Florida SBDC Network. "SBDC Day represents a prime opportunity to celebrate our clients and raise awareness about the success and impact of the Florida SBDC Network and SBDCs nationally."
Join the Celebration
An easy way to participate is through the use of Thunderclap, which posts a one-time message to a user's social media account of their choice on SBDC Day. To learn more, and to pledge your support, please click here.
Small businesses, stakeholders, partners, and advocates are invited to post a picture on social media using "I Love the Florida SBDC Because" flyer and using the hashtag #SBDCDay.
Small businesses, stakeholders, partners, and advocates are invited to help spread the word about SBDC Day and the impact of their local Florida SBDC using the hashtag #SBDCDay leading up to and on March 21.
Small businesses, partners, and advocates are also encouraged to contact their local Florida SBDC to learn about upcoming workshops, special events, and other opportunities to join the celebration.
To view pictures from last year's inaugural SBDC Day celebration, please click here.
To learn more about SBDC Day, please visit www.AmericasSBDC.org/SBDCDay.