Commitment to Continuous Improvement Earns State's Principal Provider of Business Assistance Recognition by Florida Sterling Council
FSBDCN State Office (Pensacola, Fla.) – The Florida SBDC Network, the state's principal provider of business assistance, has won a best practice award for its annual Quality Improvement Program (QIP) review process by the Florida Sterling Council. The award was presented to Florida SBDC CEO and Network State Director Michael Myhre and Chief Strategy and Branding Officer Dr. Cheryl Kirby Friday at the 24th Annual Governor's Sterling Awards Banquet in Orlando.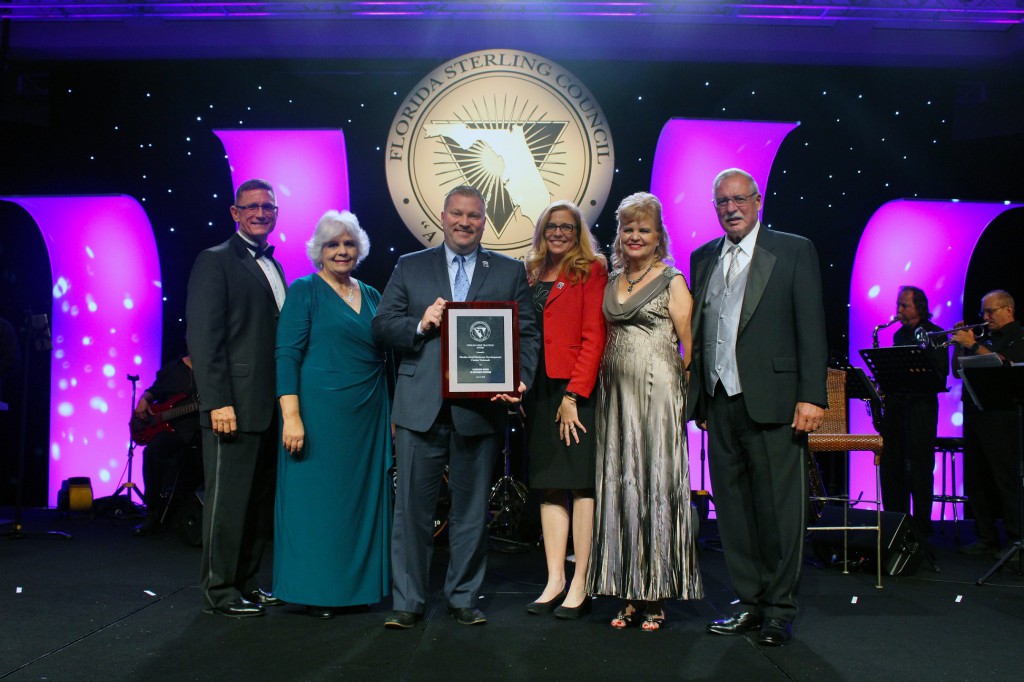 The Florida SBDC Network's annual QIP review is an internal process whereby senior leaders assess the progress and performance of each of the network's 11 regional centers. The process includes a programmatic and financial review against the national standard of practice to measure the quality of services delivered. The review, which was first deployed in 2012, includes findings such as commendations and best practices, standards met or recommendations, and conditions which require immediate attention and corrective action through a written quality enhancement plan.
Celebrating its 40th anniversary in 2016, the Florida SBDC Network provides tools, training and expertise to help small businesses grow and succeed. Thanks to partners ranging from institutions of higher education to federal, state, and local governments to private organizations, and funding support from the U.S. Small Business Administration, State of Florida, and Defense Logistics Agency, the Florida SBDC Network provides its services to entrepreneurs and small businesses at little to no cost.
To ensure compliance with laws, regulations and policies, stakeholders regularly conduct financial and programmatic reviews of the network. In addition to these reviews, the Florida SBDC Network also conducts the internal QIP review annually to ensure the network meets and exceeds regulatory and legal requirements. It is for this review that the network earned statewide recognition.
"In receiving the best practice award from the Florida Sterling Council, the Florida SBDC Network has taken a significant step in demonstrating our commitment to continuous improvement and providing the highest level of service to Florida's small businesses," said Michael Myhre, CEO and Network State Director.
The best practice award, bestowed by the Florida Sterling Council, is given to organizations that demonstrate excellence in specific processes. The Florida Sterling Council is the sole provider of the Florida Governor's Sterling Award, an annual award presented to Florida organizations in recognition of performance excellence that is endorsed by the Governor, the Malcolm Baldrige National Quality Award Program, and the State Alliance. Application for the Governor's Sterling Award consists of a rigorous application and review process by highly trained examiners who evaluate organizations against the Sterling Criteria Performance Excellence. As part of the review, examiners may also identify organizations exemplifying best practices for special recognition.
"The Florida SBDC Network is an outstanding resource here in Florida for small business owners," said Dione Geiger, executive director of the Florida Sterling Council. "Winning the Best Practice Award demonstrates how effective their regional offices  are in providing no cost consulting services to small business owners to in turn create job growth and sales, which help make Florida a state of excellence."