Florida SBDC Network Headquarters (Pensacola, Fla.) – On Monday, President Donald Trump signed an executive order to reduce the number of regulations affecting small and large businesses. According to the order, unless prohibited by law, for every new regulation proposed, at least two existing regulations must be identified for elimination.
President Trump signed the order surrounded by a group of small business leaders, stating that the order is aimed at "cutting regulations massively for small businesses."
President Trump's executive order will focus on a new approach to curb the cost of regulations. For fiscal year 2017, the total incremental cost for new regulations is $0. Agencies must offset any incremental costs associated with new regulations by eliminating the existing costs of two current regulations.
"According to Florida SBDC research, government regulations continue to be a top issue facing our state's small businesses," said Michael W. Myhre, CEO and Network State Director of the Florida SBDC. "Small businesses cite federal regulations to be more unreasonable than local regulations and that federal regulations are more difficult and costly to adhere to relative to their larger business counterparts. We look forward to learning and sharing more about the details and implications of this order as they unfold."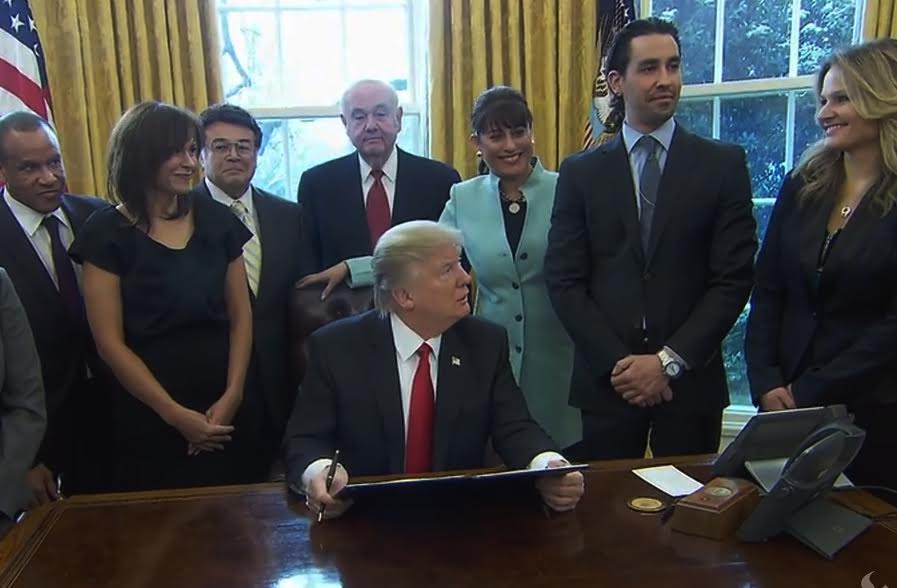 Dennis Bradford, Florida SBDC Network Statewide Advisory Board member and principal of Genesis Group, was among the small business leaders to attend the executive order signing. During the executive order signing, Bradford expressed his appreciation to President Trump:
"Thank you for doing this because small businesses have been buried in a tidal wave of red tape and to break that will really change the world for us."
Established in 1976, the Florida SBDC Network provides training, information and research, and no-cost consulting to Florida's aspiring and emerging small businesses. State designated as Florida's principal provider of business assistance, the Florida SBDC Network is a nonpartisan partnership program that leverages the resources and expertise of universities, colleges, and economic development organizations.
The goal of the Florida SBDC Network, a member of the national America's SBDC program, is to provide small businesses with access to professionally certified and credentialed business consultants to help mitigate common entrepreneurial pitfalls, thus yielding higher success rates and contributing positive local and regional economic growth.