Fort Myers-Based CPR Tools Among Select Companies Nationwide Honored at America's SBDC Client Showcase
The Florida SBDC Network, the state's principal provider of business assistance, is pleased to announce that CPR Tools, a Fort Myers-based company specializing in data recovery, eradication, advanced repairs and data security, was recognized among 13 SBDC clients nationwide at the America's SBDC Client Showcase in Washington, D.C. CPR Tools, a client of the Florida SBDC at Florida Gulf Coast University (FGCU), was honored Monday on Capitol Hill.
CPR Tools, Inc. is a small business owned and operated by John and Sue Benkert. While CPR specializes in data recovery, eradication, advanced repairs, and data security, they also offer training and research services. Some of their largest contracts come from national and local law enforcement agencies, as well as internet technology companies. The Benkerts began working for CPR Tools in 2004. John Benkert quickly determined the company's potential went beyond data recovery services and hired several hardware and software engineers and began designing and building products for the data recovery and security markets. In 2011, the Benkerts acquired the company and employment has expanded to 28 employees.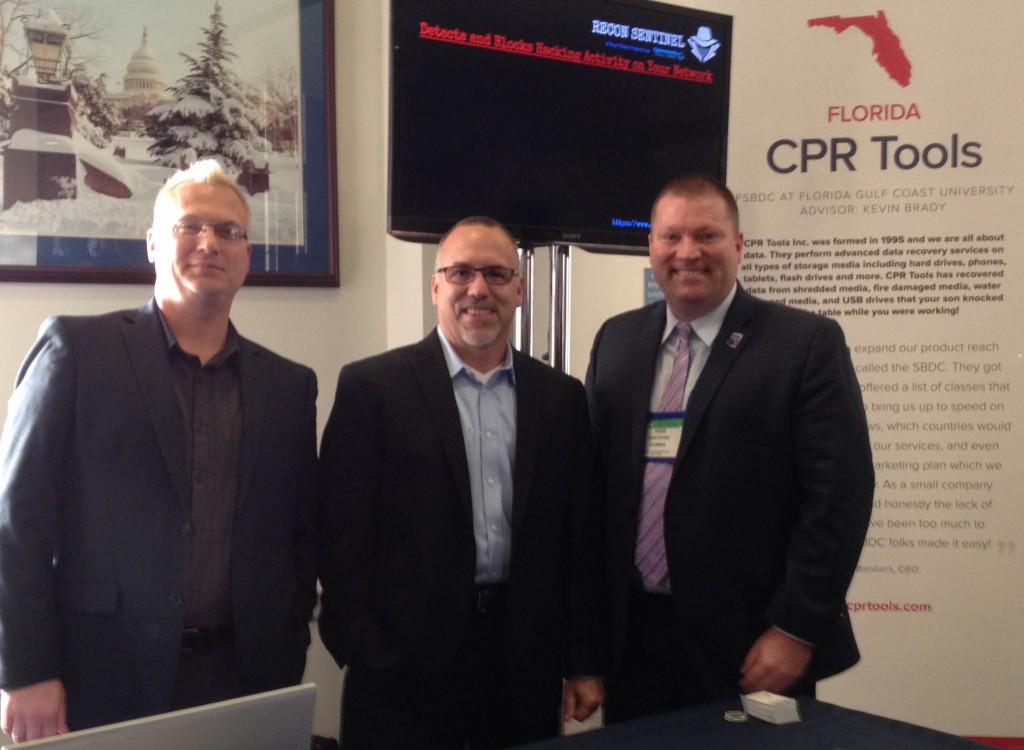 John really appreciates the help the Florida SBDC at FGCU gave them when they were starting out. John had a learning curve when he first acquired CPR Tools and attributes credit to Kevin Brady, International Trade Specialist for the Florida SBDC at FGCU. Brady created an export marketing plan for CPR Tools to assist them in expanding into worldwide markets.
Through a partnership with Enterprise Florida and the U.S. Commercial Service, Florida SBDC International Trade Specialists prepare export marketing plans for qualifying Florida-based manufacturers and service providers. Specialists spend approximately 100 hours on each plan, creating a customized report with target market recommendations, overseas trade opportunities, and an action plan for market entry.
In addition, the Florida SBDC at FGCU is credited with helping create impactful connections between CPR Tools and FGCU, as well as the University of South Florida. In 2016, the Florida SBDC at FGCU awarded Benkert the Distinguished Innovator of Southwest Florida. The award is given to a Southwest Florida entrepreneur who has adopted or created their own new technologies or cutting edge approaches resulting in accelerated business growth and profits. This innovation is demonstrated in their products, services, employee programs, or internal processes and procedures, with the result being fast-tracked business success.
As the only business from Florida to attend the America's SBDC Client Showcase, CPR Tools represents the tens of thousands of entrepreneurs and small business owners who receive business assistance from the Florida SBDC Network each year.
"We are proud of John and Sue and the entire CPR Tools team for the success and impact they've achieved in Southwest Florida and beyond," said Michael W. Myhre, CEO and Network State Director of the Florida SBDC and Board Chairman of America's SBDC. "They are a true example of how hard work and determination pays off and we are thrilled to be part of their success."
The America's SBDC Client Showcase and Reception was held in the Rayburn Office Building in Washington, D.C. Representative Steve Chabot of Ohio, Chairman of the Committee on Small Business, Acting SBA Administrator Joseph Loddo, Representative George William "Bill" Foster of Illinois, Representative Yvette D. Clarke of New York, and Representative Louie Gohmert of Texas addressed the reception guests. The mission of America's SBDC and SBDCs nationwide is to help entrepreneurs realize their dream of business ownership and to help existing businesses grow and succeed.
"What SBDCs do, their impact and value to aspiring and growing businesses, is best told through their clients' success," said Charles "Tee" Rowe, President & CEO of America's SBDC. "SBDC clients not only have revolutionary products and services, they are hardworking, dedicated, and a group we couldn't be more proud of. We only wish we could feature all the tens of thousands of businesses we help every year."
For more pictures from the event, please click here.