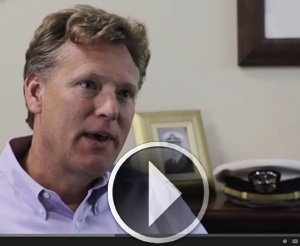 By: Michael Myhre, CEO and Network State Director, Florida SBDC (As published in the Fall 2014 issue of Florida's Bottom Line)
Veterans and entrepreneurship are a perfect match. According to the U.S. Department of Labor Statistics, more than one million service members are projected to leave the military between 2011 and 2016. Collectively, it is our responsibility to ensure that our servicemen and women find jobs, and if entrepreneurship is the right path for them, that they have the necessary resources for their businesses to grow and succeed.
By the numbers
According to the U.S. Small Business Administration (SBA) Office of Advocacy, veterans are 45 percent more likely to start a business than those with no prior active duty experience. As of 2007 (the latest data available from the U.S. Census Bureau), there were 2.4 million veteran-owned businesses in the United States. Florida ranked among the top three states with the highest number of veteran-owned businesses with 176,727, or 8.8 percent of all businesses in the state. By industry, finance and insurance had the largest share of veteran-owned businesses with 12.8 percent, followed by professional, scientific, and technical services; and transportation and warehousing.
For many returning veterans, their military experience, discipline, and work ethic provide a competitive edge for starting or growing a business. "We are taught from the very beginning to look at the problem in front of us and use our creativity to solve it," said Jeff Meister, Assistant Director for the University of West Florida's Military and Veterans Resource Center (MVRC). "Often times we have to solve a problem with limited resources and it's not a 'well let's try this or that' situation because your life is on the line and you have to be able to think quickly, clearly, and concisely, and then act on that decision. To succeed in business is not much different."
Difficult transition
Meister, a service-disabled veteran who served in the United States Navy for 20 years as a Hospital Corpsman, is acutely aware of the challenges returning veterans face when transitioning to civilian life. "As a Hospital Corpsman, there is nothing for you to do in the civilian community because you don't have your license so you have to be retrained," added Meister.Unlike Meister, who went to school to become a teacher through the Department of Veterans Affairs' Vocational Rehabilitation and Employment (VR&E) and now oversees UWF's MVRC, which helps military and veteran students bridge the gap between military and college—as a staggering number of veterans struggle in transitioning to civilian life. A 2012 study of Post-9/11 and Gulf War-era II veterans by Prudential Financial, Inc. and the Iraq and Afghanistan Veterans of America (IAVA) revealed that 69 percent of veterans reported finding a job as the greatest challenge when returning home from service.
For many veterans, entrepreneurship is the next logical step in their career path. Veterans with service-connected disabilities often choose entrepreneurship due to physical limitations. According to the U.S. Census Bureau Survey of Business Owners, service-disabled veterans account for 8.3 percent of all veteran-owned businesses nationwide.
Combating entrepreneurial challenges
Though military service is excellent preparation for entrepreneurship, business ownership still proves challenging for veterans. Among the top obstacles facing veteran-owned businesses are lack of business experience and access to capital.
Most military veterans leave service with a wealth of technical expertise. However, it is unlikely that they possess the necessary business acumen. Luckily, a wealth of expertise is available to veterans interested in entrepreneurship. The U.S. Small Business Administration and the U.S. Department of Veterans Affairs websites are great places for veterans to find more information about assistance and certifications available. Veterans also have access to business information, tools, and professional consulting at no cost through the Florida SBDC Network, which operates more than 40 offices from Pensacola to Key West. In addition, veterans may seek entrepreneurial assistance from the Veterans Business Outreach Center (VBOC), a resource center for veterans, active duty military members, service-connected disabled veterans, and their spouses.
Veterans also have access to unique opportunities in helping them fund their venture, including the SBA Express Loan Program, which supports loans under $350,000. Through the end of the fiscal year, the borrower fee has been waived for veteran loans authorized through the program. In addition, the SBA 504 Loan Program provides financing for major fixed assets such as owner-occupied commercial real estate and long-life machinery and equipment.