Federal government contract awards continue to be a source of sustainment and growth for many Florida businesses, and a key economic driver in Florida.
Last year (FY2015), Florida had the seventh highest federal contract total spend by state, at a value of $13.620 billion, however this represented only 0.2 percent growth from FY2014. Of this amount, in Florida, defense agencies spending at $10.187 billion continued to be significantly higher than civilian agencies spending of $3.433 billion. [1]
Federal Agency Spending by Industry
The top three markets for federal spending are defense and aerospace, professional services, and information technology (IT), which accounts for more than half of the reported spent in FY2015 (see Figure 1). In addition to defense and aerospace, the markets where defense spending accounts for the majority of the total spent include: Architecture, engineering and construction; health services; machinery equipment and tools; and chemicals, fuels, and lubricants.
The civilian agencies' highest spending is in operations and maintenance, and medical and scientific equipment. Spending in professional services and IT appears to be more evenly split between civilian and defense agencies, with slightly more being spent by civilian agencies in professional services, and slightly more by defense in IT. [2]
Federal Agency Small Business Spending Goals
The U.S. federal government has focused on increasing spending with small businesses, and this is reflected in the government-wide small business goal achievement over the past few years. As shown in Figure 2, FY2015* will be the third year in a row that the government is anticipated to have met or exceeded the 23 percent goal for small business spending, and it is anticipated to be the first year that the women-owned small business (WOSB) goal has been met/exceeded.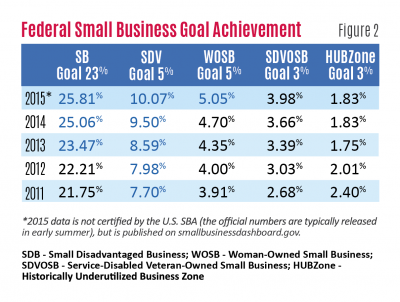 State and Local Government Agency Spending
State and local government agencies also represent a large market segment for Florida's small businesses. Florida ranked fourth highest in the nation in terms of state and local government agency spending, with a total value of $164.382 billion in FY2015, slightly up from $164.272 billion in FY2014. [3] This includes spending by cities, counties, and school districts, colleges and universities.
[1 & 2] Annual Review of Government Contracting 2016 Edition, NCMA and Deltek
[3] Forecast Estimate from Annual Review of Government Contracting 2016 Edition, NCMA and Deltek

This article is a series as part of the 2016 State of Small Business Report: Small Business and Its Impact on Florida, a report developed by the Florida SBDC Network in collaboration with the University of West Florida Center for Research and Economic Opportunity. To read the full report, please click here.