Florida SBDC Network Client Among Select Companies Nationwide Recognized at America's SBDC Client Showcase
FSBDCN State Office (Pensacola, Fla.) – The Florida SBDC Network, the state's principal provider of business assistance, is pleased to announce that GreenTechnologies, a Jacksonville-based manufacturer of environmentally friendly fertilizers, was recognized among 11 SBDC clients representing ten states at the America's SBDC Client Showcase and Reception in Washington, D.C. GreenTechnologies, a client of the Florida SBDC at the University of North Florida (UNF), was honored February 1 on Capitol Hill.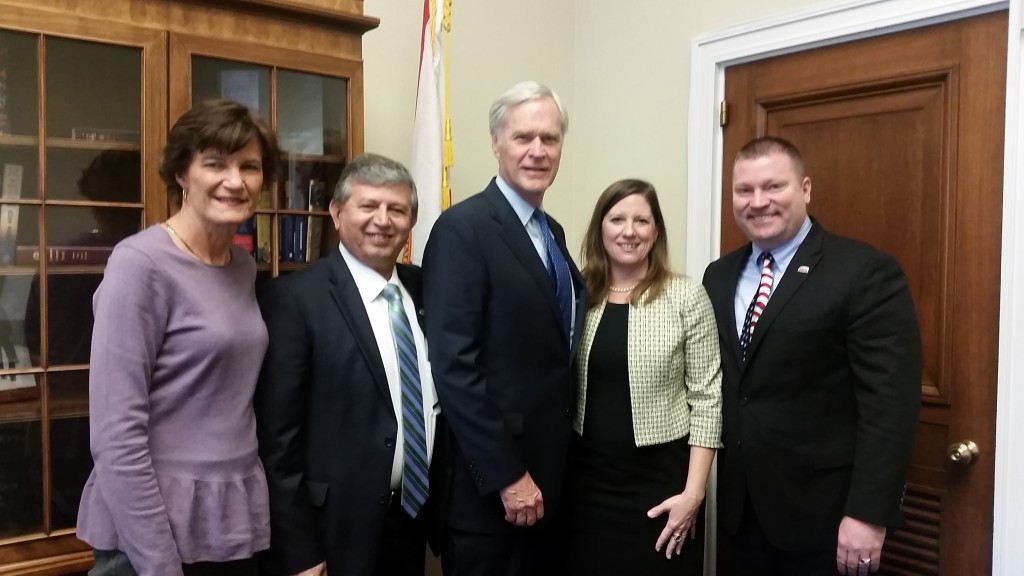 Founded by Dr. Amir Varshovi in 1999, GreenTechnologies creates environmentally friendly lawn and landscape solutions for personal, commercial, and public use. Unlike most chemical fertilizers, which are synthetically manufactured or mined and cause significant environmental impact, GreenTechnologies uses a patented process to repurpose organic materials, such as biosolids from wastewater treatment plants, into organic fertilizers.
Today, GreenTechnologies operates a 25-acre manufacturing facility in Jacksonville.  The company's GreenEdge products are sold online nationwide through the Home Depot and Amazon, as well as at Ace Hardware stores in Central and Northeast Florida.
Varshovi and Marla Buchanan, chief operating officer of the company, first visited the Florida SBDC at UNF in 1999 to attend a series of startup workshops. The FSBDC has continued to work with Varshovi and Buchanan over the years in areas such as exporting, whereby they developed an Export Marketing Plan for the company focused on overseas growth strategies.
"The SBDC Showcase reception and one-on-one meeting with our Congressman Ander Crenshaw was an amazing opportunity and a once in a lifetime experience," said Varshovi. "The State FSBDC representatives, Mike Myhre, Cheryl Kirby and David Weeks, along with our local SBDC representative, Cathy Hagan, have done an incredible job of supporting and helping grow small businesses such as ours.  Without their efforts and hard work GreenTechnologies would not be where it is today."
As the only business from Florida to attend the reception, GreenTechnologies represents the tens of thousands of entrepreneurs and small business owners who receive business assistance from the Florida SBDC Network each year.
"It was an honor to represent the State of Florida in Washington, D.C. but the event really underscored the tremendous amount of work and job creation that the SBDC does every day here in Florida and around the country," added Varshovi. "We feel truly privileged to be the beneficiary of their great programs."
The America's SBDC Client Showcase and Reception was held in the Cannon House Office Building in Washington, D.C. Congressman Ander Crenshaw, Chairman of the House Appropriations Subcommittee on Financial Services and General Government and Member of the House Appropriations Subcommittee on Defense, and Congressman Steve Chabot of Ohio, Chairman of the Committee on Small Business, addressed reception guests. The mission of America's SBDC and SBDCs nationwide is to help entrepreneurs realize their dream of business ownership and to help existing businesses grow and succeed.
"We are very proud of Amir and Marla and the success they've achieved nationwide and internationally," said Michael Myhre, CEO and Network State Director for the Florida SBDC. "They are truly deserving of this recognition and we are happy to be part of their success."
In 2015, GreenTechnologies was awarded a SBIR Phase I Award from the U.S. Environmental Protection Agency to develop the company's groundbreaking phosphorous removal and recovery technology. In 2014, Varshovi was named the U.S. Small Business Administration Small Business Person of the Year for the State of Florida.