Emergency Bridge Loan Serves as Lifeline to Rebuild, Recover Following the Storm
Florida SBDC Network Headquarters (Pensacola, Fla.) – Hurricane Michael, the strongest storm on record to make landfall along the Florida Panhandle, left a wake of devastation in its path. One year later, small businesses across the Panhandle are still feeling the lingering impacts of the storm.
In Mexico Beach, the storm wiped out 80 percent of the community - a seaside town known for its old Florida charm. Battered but resilient, small business owners like David Kiser, owner of Caribbean Coffee, are picking up the pieces and making sense of their new normal.
Despite damage to the café's windows, doors, front wall, overhang, and roof, Kiser set about reopening as quickly as possible. Thanks to the state's emergency bridge loan and help from the Florida SBDC at UWF, Kiser reopened on November 19, 2018. In a town that doesn't allow large corporations or large chains, small businesses are critical to the community, so every day that one reopens is a small win.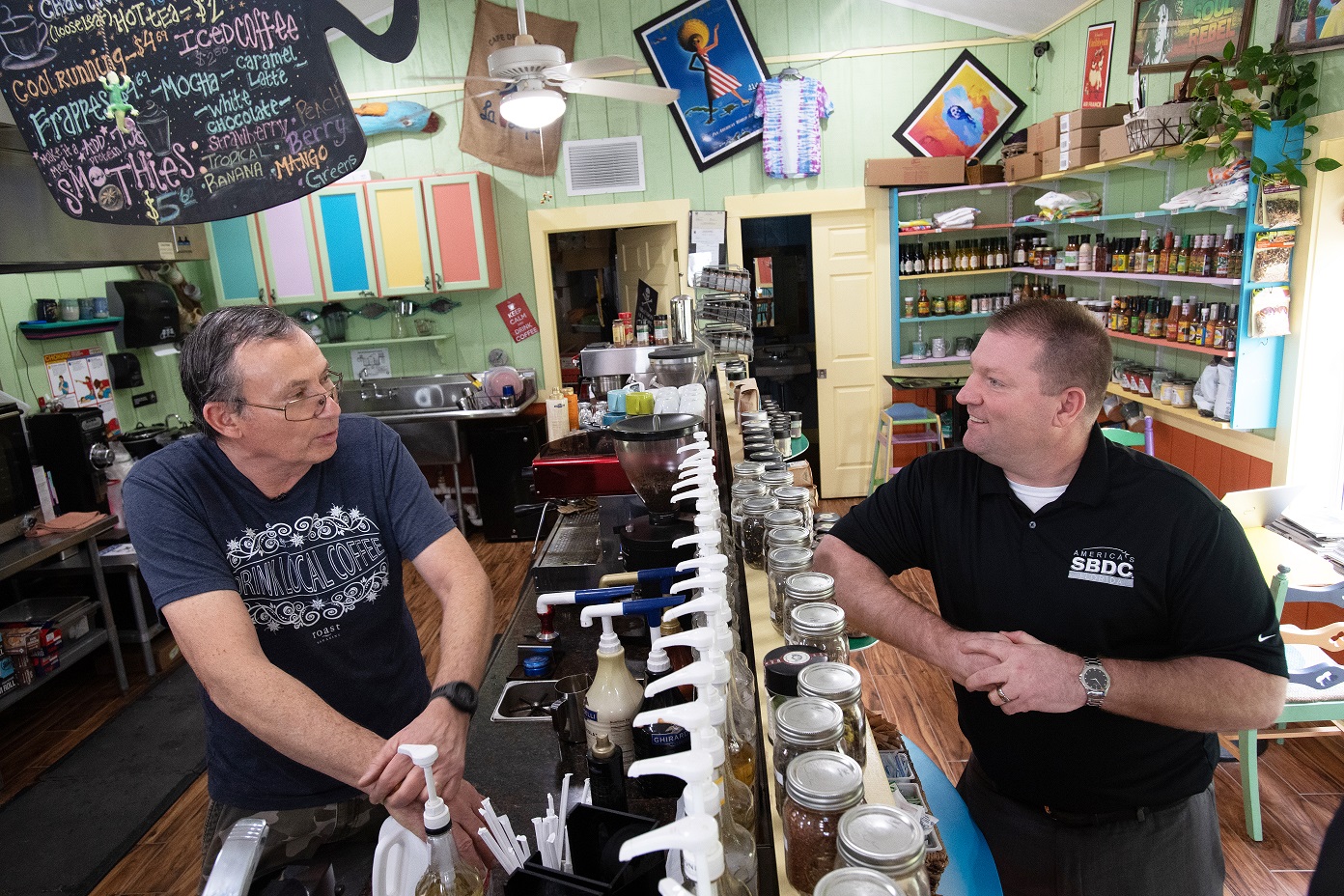 According to Kiser, his café has recovered physically, but not financially. Kiser credits a loss of his customer base as his biggest challenge.
Hurricane Michael not only dealt a devastating blow on the coast, but also inland as well. In Marianna, destructive winds left the "City of Southern Charm" a mangled mess of debris and fallen trees.
In Marianna, Cindale Farms is a small dairy farm home to 500 cows. The farm also owns Southern Craft Creamy, a high-end, artisan ice creamery and scoop shop located downtown that features milk produced from their farm.
According to Meghan and Brad Austin, second-generation dairy farmers who operate the business, the farm suffered devastating losses due to fallen trees. For the Austins, the bridge loan served as a valuable source of funds to help make repairs and overcome losses.
"Our funding sources have been slow to come in or have not come in at all," she added. "Our fencing and the tree damage was not insurable, so the bridge loan helped us pay for repairs and helped us overcome our losses. Cows get stressed during storms too, so we saw a drop in milk production following the storm, which hurt our bottom line."
Despite significant progress, recovery has been slow. According to Meghan, they have only reached 60 percent recovery. They have faced challenges securing long-term disaster funding and still await approval for cost-share assistance for all debris removal and fencing expenses incurred during the storm.
As a principal responder in the state's Emergency Support Function, the Florida SBDC Network played an active role in coordinating resources, establishing Business Recovery Centers, and providing assistance to small business owners in applying for state and federal disaster loans.
In partnership with the Florida Department of Economic Opportunity and Florida First Capital Finance Corporation, the network closed 588 emergency bridge loans, helping small business owners like Kiser and the Austins secure more than $34.1 million in immediate, short-term capital to make payroll, repairs, and other expenses.
"We are extremely proud of our work to help small businesses following the storm," said Michael W. Myhre, chief executive officer of the Florida SBDC Network. "Together with our partners, we are committed to doing all that we can to help small businesses make a full recovery."
To learn more, please visit www.FloridaSBDC.org.