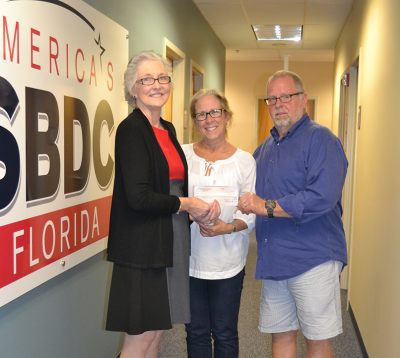 A story about partners working together to help small businesses overcome challenges to grow and succeed.
Chowder Teds is a restaurant located in Jacksonville that is known for serving fresh seafood, an award-winning chowder, and Ted's famous sauce. In early October of 2016, Chowder Teds was impacted by Hurricane Matthew. Carole Emerson, VP/Secretary, turned to the Florida SBDC Network for assistance with securing a Florida Small Business Emergency Bridge Loan. When asked about her experience with the hurricane and the assistance she received, Emerson recalled:
What type of damage occurred?
We sustained substantial roof damage from the wind caused by Hurricane Matthew. That was followed by inches and inches of rain that poured into our small restaurant. Roofing, flooring, walls, inventory, and equipment were affected by that wind and water.
How helpful was the Bridge Loan?
During a devastatingly-quick-thinking-sense of urgency time for us, the Bridge Loan allowed us to begin our clean-up and repair process immediately while we waited for insurance proceeds and other funding. Our property needed to be protected from further damage, as well as get the repair processes lined up in order to re-open. Without any source of business revenue, access to funds for our business from the Bridge Loan Program meant we could focus our time on repairing.
How helpful was the SBDC?
Well, following the hurricane, we saw a small blurb in the FTU regarding the Emergency Bridge Loan program. Surely it didn't apply to us, right?! Who was the SBDC? A few days later, our CPA mentioned he had seen it as well. And we called. This Emergency Bridge Loan program has been a blessing in many ways; financial relief to begin a very costly clean up and repair; moral support from a group of very smart business people who were not only happy to help, but also knowledgeable to help businesses and their owners be successful in good times and when things can go wrong. The SBDC said gather your papers and photos...send them over. We were approved very quickly and our clean up process and recovery began. Our gratitude to the staff, the decision makers and the program for getting us started on the path to recovery; financial and physical.
About the Florida Small Business Emergency Bridge Loan Program
Activated by the Governor and administered by the Florida Department of Economic Opportunity in collaboration with Florida First Capital Finance Corporation (FFCFC) and the Florida SBDC Network, these short-term, interest-free working capital loans are intended to help impacted businesses "bridge the gap" between the time a major catastrophe hits and when a business has secured long-term recovery resources, such as insurance claims or federal assistance. Eligible businesses with two to 100 employees may apply for loans up to $25,000 for 90 or 180 day terms.
As a principal responder in the state's Emergency Support Function (ESF) 18 for Business, Industry, and Economic Stabilization, the Florida SBDC Network supports disaster preparedness, response, recovery, and mitigation through its Business Continuation Services. As part of its service offering, Florida SBDC professionally certified consultants and disaster specialists are available to provide confidential, no-cost consulting to help affected businesses prepare disaster loan applications and with other post-disaster challenges.