Joe and Rhonda Wendling, originally from Chicago, have called Southwest Florida home since 2013. Joe and his brother Pete, who is also part-owner of Rosati's Pizza Pub in Fort Myers, are lifetime entrepreneurs, having previously owned and operated a window manufacturing company in the Chicago area. Once the Wendlings settled in Southwest Florida, the entrepreneurial family realized something was missing from their family tradition: a true Chicago-style pizza.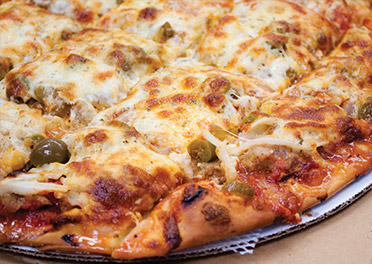 The story of how the Wendlings were introduced to Rosati's is a heartwarming story. Their son Nick had developed childhood leukemia at a very young age. Through the chemotherapy treatments, there was only one food the family could get him to eat: Rosati's pizza. With hectic work schedules and multiple daily trips to the hospital during the week for their son to receive treatment, Rhonda said:
"There was just no time to cook, we would end up having Rosati's delivered practically every other day."
Many years later and with their son having rebounded with a full recovery, the idea to open a pizza company came to mind. Their son, now 22, expressed to his family how they really should consider opening a Rosati's in Florida. Joe and Rhonda reached out to the Rosati family directly and the Rosatis were amazed at the Wendlings' desire to open a store in Florida.
Joe and Rhonda met with Julio Estremera, a certified business consultant with the Florida SBDC at Florida Gulf Coast University (FGCU) in 2014 to review their business plan, to review the details of the franchise, and to develop a step-by-step checklist to follow in order to open a restaurant in Fort Myers.
"Having that detailed list [from the Florida SBDC] helped [us] know where to start and how long it is going to take," said Joe.
In June of 2015, Rosati's in Fort Myers officially opened. The Wendlings have been busy since opening, even during the historically slow summer season. They also have added specialty items such as local craft beers to the bar menu and look forward to expanding this area over the next several months.