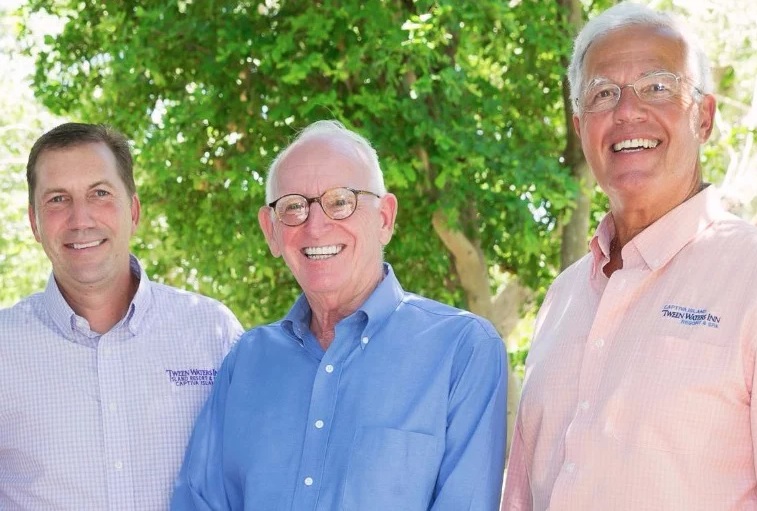 Nestled between Sanibel and Captiva with beach views for miles is Tween Waters Resort, a property holding of Sanibel Captiva Beach Resorts, offering 137 historic seaside cottages, suites, studios, and guest rooms. The resort has been through several expansions since Tony Lapi took ownership of the property in 1976. Back then, the resort consisted of 47 cottages and a small restaurant. In 1982, the Crows Nets Beach Bar and Grille was added to the property; and then in the 90s, the Wakefield Room, an event venue was completed.
Lapi said one the biggest challenges he faced with the resort was cash flow. The resort needed multiple large-scale property improvements to bring it to prime operational standards for the industry. As time progressed, additional plans were made to expand the property. During the early years, Tween Waters offered on-site employee housing; approximately 25 years ago, the decision was made to demolish these residences and turn that portion of the property into the 12-unit building named the Mangrove. Tween Waters is one of four properties owned by Lapi, and forms part of the Sanibel Captiva Beach Resorts group of properties. The group also owns West Wind Inn on Sanibel Island, Beachview Cottages of Sanibel, and Castaways Beach & Bay Cottages of Blind Pass. The properties have a combined capacity of 30 rooms.
Six years ago, Sanibel Captiva Beach Resorts brought in chief operating officer Doug Babcock. Babcock has an extensive financial and managerial background and from his experience working on Wall Street for more than a decade. Both Lapi and Babcock continually strive to make sure the resorts are the go-to destinations for all visitors to the area.
In 2016, Lapi and Babcock sought the assistance of the Florida SBDC at Florida Gulf Coast University. Consultant Duane Hoversten has been working with the resort group since that time. Hoversten, himself a business owner in the hospitality industry, understands the unique challenges of the lodging industry and was able to bring valuable insights to the team.
Lapi says, "you have to go in with an open mind and be willing to listen." The management team of Sanibel Captiva Beach Resorts and Hoversten completed a two-day strategic planning session, with a specific focus on improving the restaurant's performance.
By the end of 2016, the Tween Water restaurant Captiva House improved profitability by over $500,000.
Both Lapi and Babcock agree, one of the benefits of the Florida SBDC consulting services is they are no cost, and the best part is the consultants are or have been business owners who bring with them a wealth of knowledge and hands-on experience.