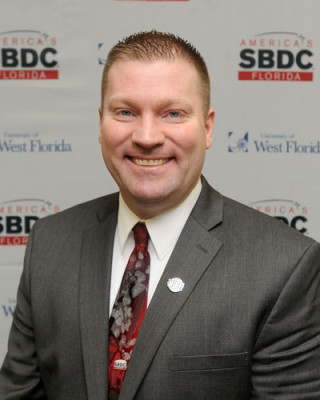 FSBDCN State Office: The Florida SBDC Network is pleased to announce the University of West Florida's selection of Michael W. Myhre as the new Network State Director. In this role, Myhre will lead the statewide network of more than 40 offices and close to 250 employees, providing strategic vision and oversight in the continued success of Florida's largest provider of assistance for small and medium-sized businesses.
"We are pleased that Mike Myhre will lead the Florida SBDC Network," said UWF President Judy Bense. "After a national search it was clear that his unwavering commitment to entrepreneurship, strong vision, business acumen, and leadership principles are a perfect match for this post and will aid in further strengthening Florida businesses."
Myhre Dedicated to the Success of Small Businesses and Entrepreneurs
Myhre holds more than 20 years of economic and business development experience, dedicating his career to ensuring success for entrepreneurs and small business owners. He joined the Florida SBDC Network in January 2011 as Deputy State Director and has served as Interim State Director since March 2013. In this role, Myhre was responsible for day-to-day operations, including the management, operation, and continuous improvement of the organization.
"I am pleased to hear that the Florida SBDC Network has appointed Michael Myhre as the Network State Director. Director Myhre's extensive knowledge and experience in business development will serve to support Florida's small businesses. I look forward to working with Director Myhre in the future to promote sound economic policies that benefit Florida's business community," said Jesse Panuccio, Executive Director of the Florida Department of Economic Opportunity.
Prior to his tenure with the FSBDCN, Myhre held the position of State Director for the Office of Entrepreneurship and Small Business Development for the State of Minnesota. In this position, Myhre provided oversight of the state's leading office of entrepreneurial and small business policy development and support services, including direction of the Minnesota SBDC Network.
Michael Myhre
"The Florida SBDC Network has emerged as the most significant statewide economic development initiative to foster the success of Florida's small, medium, emerging and growth businesses," said Myhre. "We have experienced remarkable achievements since our establishment, and I look forward to continue its rich tradition as a progressive organization focused on the enrichment of Florida."
Myhre has served on various boards including America's SBDC Network as a member of the Board of Directors, Accreditation Committee, Leadership and Professional Development Committee, Legislative Committee, and Economic Development MIS Committee. He is a graduate of the University of Minnesota Carlson School of Business, and married to his wife, Catherine, and father of three: Chelsea (21), Emme (20) and Dakota (17).
About the FSBDC Network
For over 35 years, the Florida SBDC Network has nourished a statewide partnership between higher education and economic development organizations, dedicated to providing emerging and established business owners with management and technical assistance, enabling overall growth and increased profitability for the businesses and economic prosperity for the state.
In 2012, the Florida SBDCs served approximately 38,000 entrepreneurs and small business owners through consulting and training, resulting in 47,845 jobs created, retained and saved at a significantly low cost of $112 per job; $6.3 billion in sales growth; $235.2 million in capital accessed; $588.4 million in government contract awards; and 744 new businesses started. For every $1 of Florida public and private sector investment in the FSBDC program, $40 was returned to the state in tax revenue.
A statewide service network of 40 centers with 60 outreach locations, the Florida SBDC Network is funded in part by the U.S. Small Business Administration, Defense Logistics Agency, State of Florida, and other private and public partners, with the University of West Florida serving as the Network's designated lead host institution. The Florida SBDC Network is state designated as Florida's principal provider of business assistance and is nationally accredited by the Association of SBDCs.