FSBDCN State Office: Florida manufacturers and exporters are critical drivers of the state's economy. According to the latest data from the National Association of Manufacturers (NAM), the state's manufactured goods exports totaled $61.8 billion, supporting 14.2 percent of Florida's manufacturing jobs. Ninety-three percent of Florida's exported goods are produced by the state's 18,389 manufacturing firms, of which employ 340,267 workers.
Florida Manufacturing is Ripe for Production
Since 2009, Florida's manufactured goods exports have risen nearly two and a half times faster than the state's overall economy. Small businesses play an integral part, accounting for 95.4 percent of the state's 57,381 exporters and 68 percent of the total state exports.
According to Building up Florida Manufacturing by the office of Governor Rick Scott, Florida is well-positioned for success. Since 95 percent of the state's manufacturers' potential lies outside of the United States, Florida represents a unique gateway to international economies. Florida's close proximity to countries such as Latin America and the Caribbean make it easier for businesses to build a global clientele. Additionally, the recent signing of a free trade agreement with Panama and Colombia, and the completion of the Panama Canal provide attractive opportunities for businesses to increase trade.
To foster economic growth and allow manufacturers to be more competitive, the Florida Legislature passed a new sales tax exemption law for purchasing machinery and equipment that takes effect April 2014. The law will allow Florida's manufacturers to take advantage of reduced costs to focus on expansion, make additional capital investments and create jobs.
"Manufacturing and exporting are vital to creating jobs and advancing the state's economy," said Michael Myhre, CEO and Network State Director, Florida SBDC Network. "The Florida SBDC Network plays a key role by providing essential services in support of Florida manufacturers seeking to tap into international markets."
According to an independent study, Economic Impact of SBDC Business Development Activities on the Florida Economy, 2013, manufacturing companies who received business consulting from the Florida SBDC Network saw a job growth of 9.20 percent, compared to a 1.70 percent growth for the average Florida manufacturing firm.
Ez Products International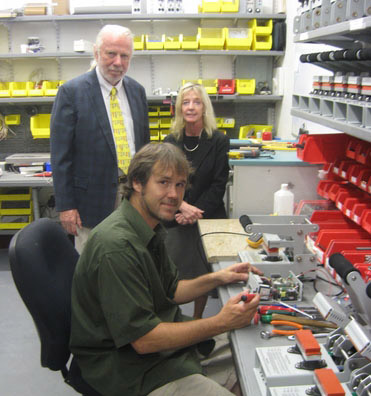 EzProducts International, Inc. (EzPi), which manufacturers heat-sealing presses used to apply labels or patches of fabrics, needed a place to sell more products. The products invented, developed and manufactured at EzPi as a response to market needs had gained 70 percent coverage of the national dry cleaning industry as customers. While their domestic position was strong, their sales revenue had plateaued. With the assistance of the FSBDC at the University of South Florida and its Export Marketing Plan Service, EzPi has experienced an increase in annual income estimated to have doubled in the past year. The company has also increased its workforce from six to eight employees.
Goodwin Heart Pine Company
Goodwin Heart Pine Company, a company specializing in river-recovered antique heart pine and heart cypress, produces reclaimed wood flooring, architectural millwork and stairs. Since the company's inception, Goodwin Company has earned the reputation of one of the most highly respected manufacturers of antique heart pine and heart cypress in the world. With the assistance of the FSBDC at the University of North Florida and its Growth Service, the company has grown into a medium-sized enterprise with a significant national presence, and has become the premier company in its industry. read full story | watch video
Hernon Manufacturing

Harry Arnon, President of Hernon Manufacturing, a custom formulator of adhesives, sealants, and precision dispensing and curing systems, believed that there was untapped potential in international markets and decided to refocus efforts to make exporting a top priority. Hernon turned to the FSBDC at the University of Central Florida. With the help of the certified business consultant and international trade specialist, the company received assistance in crafting an aggressive growth strategy, and was matched with an opportunity to participate in the FSBDC's Export Marketing Plan Service. Hernon's products are now found in more than 27 countries worldwide and the company has been recognized for its exporting efforts, most recently winning the 2013 SBA Small Business Exporter of the Year Award and the 2012 Exporter of the Year Award by ThinkGlobal, Inc. read full story 
FSBDC Manufacturing Services Help You Plan
To continue to provide opportunities for companies in this industry, FSBDCs assist qualified Florida-based, "new-to-export" manufacturers and service providers with overseas growth strategies through its Export Marketing Plan Service, in partnership with Enterprise Florida and the U.S. Commercial Service. FSBDC consultants develop customized export marketing plans that include a thorough export readiness assessment, industry analysis, market analysis with target market recommendations, a review of overseas trade opportunities, and an action plan that may include trade mission participation.
About the FSBDC Network
For over 35 years, the Florida SBDC Network has nourished a statewide partnership between higher education and economic development organizations, dedicated to providing emerging and established business owners with management and technical assistance, enabling overall growth and increased profitability for the businesses and economic prosperity for the state.
In 2012, the Florida SBDCs served approximately 38,000 entrepreneurs and small business owners through consulting and training, resulting in 47,845 jobs created, retained and saved at a significantly low cost of $112 per job; $6.3 billion in sales growth; $235.2 million in capital accessed; $588.4 million in government contract awards; and 744 new businesses started. For every $1 of Florida public and private sector investment in the FSBDC program, $40 was returned to the state in tax revenue.
A statewide service network of over 40 centers with 60 outreach locations, the Florida SBDC Network is funded in part by the U.S. Small Business Administration (SBA), Defense Logistics Agency, State of Florida and other private and public partners, with the University of West Florida serving as the Network's designated lead host institution. The Florida SBDC Network is state designated as Florida's principal provider of business assistance and is nationally accredited by the Association of SBDCs.