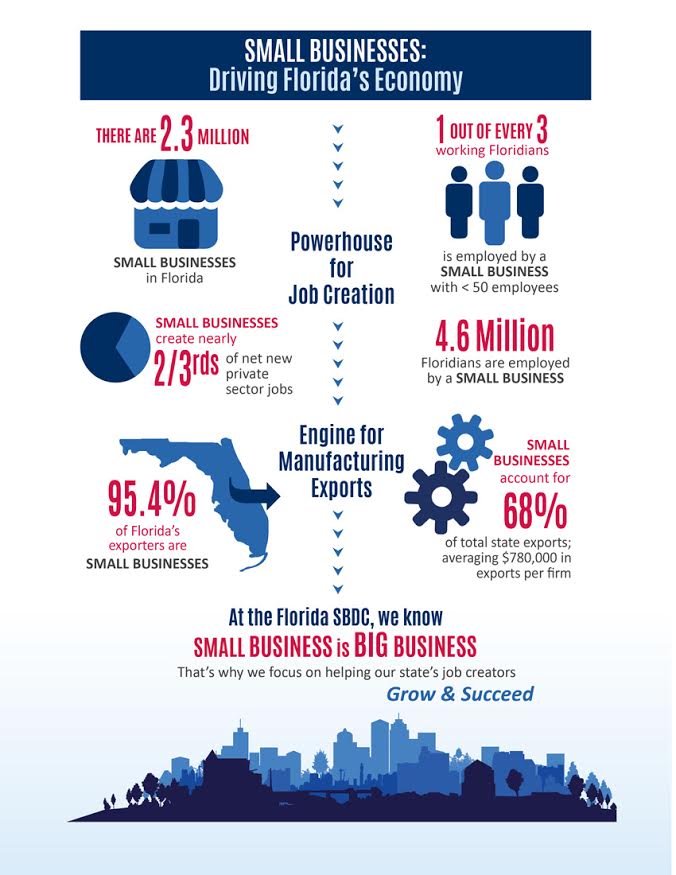 Building Florida
Just how important are small businesses to Florida's economy?
Research shows that there are 2.3 million small businesses in Florida. These businesses are a powerhouse for job creation as they provide nearly two-thirds of net new private sector jobs for the state. One out of every three Floridians is employed by a small business with less than 50 employees, equating to 4.6 million.
Small businesses – no matter if they manufacture or provide consumer goods and services—are a vital source of employment, generate considerable economic wealth, and serve as the cornerstone for local communities.
How do we ensure small business success?
Providing small businesses with resources and expertise to make smarter business decisions has been shown to dramatically increase survivability and to help avoid common entrepreneurial pitfalls.
This is where the Florida SBDC helps. At no-cost to the business owner, the Florida SBDC Network provides professional business consulting in targeted areas vital to business growth, including international trade and government contracting.
Small businesses may be small, but the impact they have on our economy is BIG. Together, we can work to provide them with the ideal environment to achieve success.